Emeril's New England Lobster Rolls
From the Farm to Your Forks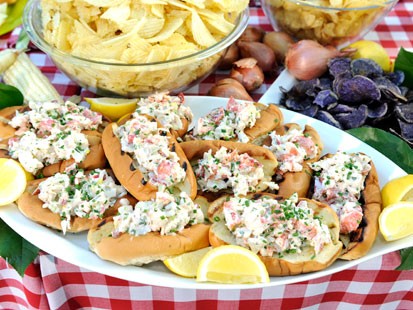 From the kitchen of Emeril Lagasse
|
There's nothing like going directly to the dock to pick up fresh lobsters. All along the New England coast, there are clam shacks and seafood joints that specialize in fresh clams, lobsters and fish. Most of these places serve lobster rolls. Nothing fancy: just fresh lobster, a little mayo, and some herbs, all served on a soft hot dog bun. Got to love it!
Ingredients
4 hot dog buns
4 tablespoons (1/2 stick) unsalted butter, melted
1/3 cup mayonnaise, homemade, or good-quality store-bought
2 teaspoons freshly squeezed lemon juice
1/2 teaspoon salt
1/4 cup finely chopped celery
1 tablespoon minced shallot
1 tablespoon minced fresh tarragon leaves
1 tablespoon minced fresh parsley leaves
1 teaspoon chopped fresh chives
1 pound freshly cooked lobster tail and claw meat, cubed (from two 1 3/4-pound lobsters)
Potato chips, for serving
Cooking Directions
Preheat the grill or broiler.
Using a pastry brush, spread the inside and outside of each bun with the melted butter. Grill or broil the buns quickly to warm them through. Set the buns aside.
Combine the mayonnaise, lemon juice, and salt in a bowl, and mix well. Fold in the celery, shallot, tarragon, parsley, and chives. Then fold in the lobster meat. Place 1 bun on each plate, and divide the lobster salad evenly among the buns.
Serve immediately, with potato chips alongside.
Recipe courtesy Emeril Lagasse, "Farm to Fork: Cooking Local, Eating Fresh" courtesy MSLO, Inc
Food styled by Karen Pickus
Other Recipes That You Might Like