Emeril's Rhubarb Strawberry Crisp
From the Farm to Your Fork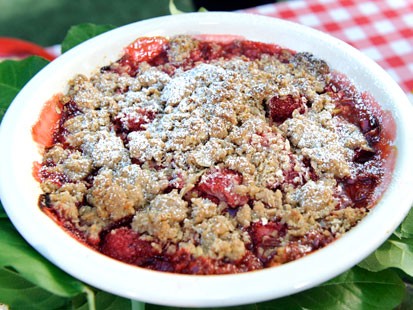 From the kitchen of Emeril Lagasse
|
Rhubarb and strawberries are a classic duo that appears in farmer's markets and grocery stores at the same time each year, letting us know that spring has officially arrived. Look for rhubarb stalks that are deep red and firm to the touch, and deep red strawberries that are firm, fragrant and not bruised.
Ingredients
1 pound rhubarb, trimmed and diced
1 pound strawberries, halved or quartered if large
3/4 cup granulated sugar
2 tablespoons cornstarch
2 teaspoons freshly squeezed lemon juice
2/3 cup all-purpose flour
2/3 cup rolled oats
3/4 cup packed light brown sugar
6 tablespoons (3/4 stick) cold unsalted butter, cut into small pieces
1 teaspoon ground cinnamon
1/2 teaspoon freshly grated nutmeg
1/4 teaspoon salt
Vanilla ice cream, for serving (optional)
Cooking Directions
Preheat the oven to 375°F. Lightly butter a deep-dish pie plate or other shallow 1 1/2- to 2-quart
nonreactive baking dish, and set it aside.
Combine the rhubarb, strawberries, sugar, cornstarch, and lemon juice in a medium mixing bowl and toss to combine. Transfer the mixture to the prepared baking dish, and set it aside while you prepare the topping.
Combine all the remaining ingredients in the bowl of an electric mixer fitted with the paddle attachment, and process on low speed until the mixture is crumbly and coarse.
Sprinkle the topping over the fruit, and then place the baking dish on a rimmed baking sheet (to catch any juices that may bubble over). Transfer it to the oven and bake until the topping is golden brown and crisp, and the juices are bubbly and glossy, 40 to 45 minutes. Set aside to cool briefly, then serve hot or warm, with a scoop of vanilla ice cream if desired.
Recipe courtesy Emeril Lagasse, "Farm to Fork: Cooking Local, Eating Fresh" courtesy MSLO, Inc
Food styled by Karen Pickus
Other Recipes That You Might Like