Shrimp Lollipops
From 'Chef's Table'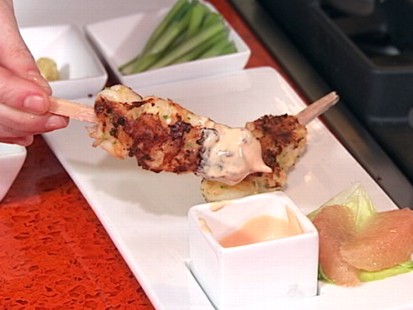 Serafina's Vittorio Fabio skewer flavorful Asian style shrimp.
From the kitchen of Michael Vernon
|
Ingredients
For the Shrimp Lollipops
Both the lollipops and the sauce can be made ahead of time.
24 pcs. Shrimp, deveined and butterflied
1 inch Ginger
2 cloves garlic
1 Scallion, green parts only
Cilantro, small handful
1/4 Cup Canola Oil, plus extra for cooking
Salt and Pepper
8 Skewers
Grapefruit segments, for garnish
Boston lettuce, for garnish
For the Sauce
1 Qt. Mayonnaise
3/4 CupWhite Wine Vinegar
3/4 Cup Rice Wine Vinegar
4 oz. Ketjap Manis (Indonesian Sweet Soy Sauce*)
1/4 Cup Sambal
1/2 Cup Sesame Oil
1 1/2 Cups Canola Oil
1 Tbsp White Sesame Seeds
1 Tbsp Black Sesame Seeds
Cooking Directions
Method:
Soak the skewers in water for at least one hour before assembling the lollipops.
Mince the Ginger and Garlic and finely as possible
Chop the Cilantro and Scallion (separately) roughly into small pieces
Combine the Ginger, Garlic, Cilantro and scallion with the Canola Oil to create a marinade for the shrimp.
Add a pinch of salt and pepper to season the marinade. Add the cleaned and butterflied shrimp to the marinade and let sit for 10 minutes.
Assemble the lollipops, 3 pieces of shrimp per skewer.
Push the sharp end of the skewer through both the top and the tail of each shrimp to insure that they are securely attached.
Take the remaining marinade and pour over the finished lollipops.
Combine all of the ingredients, except for the black and white sesame seeds, and mix in a blender.
Stir in the black and white sesame seeds.
Keep in refrigerator until time of service.
* Ketjap Manis may be found in some Asian food markets, can be substituted with soy sauce sweetened with brown sugar.
Other Recipes That You Might Like