Baby Limas, Green and Yellow Beans, and Teardrop Tomatoes with Mint Vinaigrette
From the Farm to Your Forks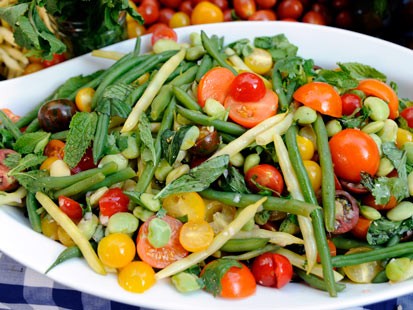 From the kitchen of Emeril Lagasse
This simple, beautiful salad is all about fresh, fresh, fresh. Try to get young, tender beans and fresh baby limas for the best results, and don't overcook them. The texture should be crisp-tender. If you feel like making this when fresh limas are unavailable, simply substitute an equal amount of frozen baby limas or edamame.
Ingredients
2 tablespoons minced shallot
1/3 cup rice vinegar
1/3 cup chopped fresh mint leaves
1/3 cup grapeseed, flaxseed, or olive oil
1 1/2 teaspoons sugar
1/4 cup salt, plus more for seasoning
8 ounces yellow wax beans, ends trimmed
8 ounces green beans, ends trimmed
2 cups fresh baby lima beans
1 pint red and yellow teardrop tomatoes (or other cherry-size tomatoes), cut in half lengthwise
2 tablespoons chopped fresh lemon basil leaves
2 tablespoons chopped fresh cilantro leaves
Freshly ground black pepper, to taste
Cooking Directions
Combine the shallot, rice vinegar, mint, oil and sugar in a small bowl. Set it aside.
Fill a large bowl with ice and cold water, and set it aside.
Bring a large pot of water to a boil. Add the 1/4 cup salt and stir to combine. Then add the yellow wax and green beans, and cook until the beans are crisp-tender, about 4 minutes. Using a slotted spoon, transfer the beans to the ice bath (leave the boiling water on the heat). When the beans are cool enough to handle, remove them from the ice bath and drain well. Toss the beans with 2 tablespoons of the vinaigrette in a medium bowl.
Add the lima beans to the boiling water and cook until tender, about 2 minutes. Drain, and place the beans in the ice bath. When they have cooled, remove them from the ice bath and drain well.
In a large salad bowl, combine the wax beans, green beans, lima beans, tomatoes, and the remaining vinaigrette. Add the lemon basil and cilantro, and toss gently to combine. Season with salt and freshly ground black pepper to taste, and serve.
Recipe courtesy Emeril Lagasse, "Farm to Fork: Cooking Local, Eating Fresh" courtesy MSLO, Inc
Food styled by Karen Pickus
Recipe Summary
Main Ingredients: mint leaves, yellow wax beans, green beans, baby lima beans, teardrop tomatoes, basil leaves
Course: Brunch, Dinner, Lunch, Side Dish, Vegetable