Ed Mitchell's Eastern North Carolina-Style Whole Hog
Big Apple Barbecue Dish to Wow Your Family!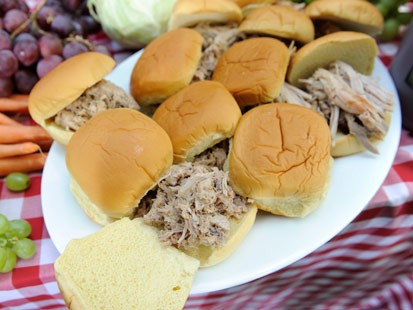 From the kitchen of Ed Mitchell
|
*Recipe Courtesy Of The Pit Authentic Barbecue Restaurant; Raleigh, N.C.
Ingredients
80-pound pig, head and feet cut off, gutted and butterflied
One gallon eastern North Carolina-style barbecue sauce (click here for the recipe)
40 pounds or two big bags of charcoal
Cooking Directions
Pour charcoal in a circle in the base of the pig cooker. Light coals. Once the charcoal has turned white, add six to eight small logs of hickory or oak, 6 inches in diameter and 18 inches long. Put the pig on the grill, inside up.
Shut the pig cooker. Leave enough space inside to let air to flow in and out but not too much space.
Cook 8-10 hours. Don't open. Coals should last the entire time. After the cooking time, open grill and allow pig to cool a few minutes. Use thick gloves to pull the skin off pig (save to chop into barbecue, if desired) and debone the pig. All the meat should fall right off the bones. Eat and enjoy, or chop the pig and season with eastern north carolina-style barbecue sauce to taste.
Other Recipes That You Might Like