Crazy-Creamy Spinach Artichoke Dip
Recipe Courtesy of Hungry Girl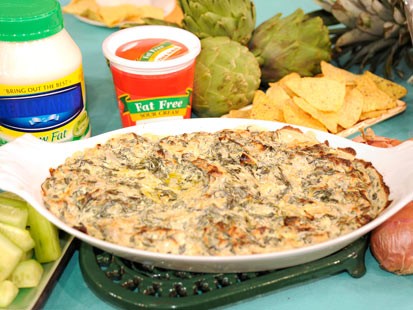 From the kitchen of Hungry Girl
|
Ingredients
One 8-ounce tub fat-free cream cheese, room temperature
1/4 cup fat-free sour cream
1/4 cup fat-free mayonnaise
1/4 cup reduced-fat Parmesan-style grated topping, divided
1/4teaspoon salt
1/8 teaspoon cayenne pepper
3 tablespoons minced shallots
2 cloves garlic, minced
One 10-ounce package frozen chopped spinach, thawed and drained thoroughly
One 14-ounce can artichoke hearts packed in water, drained thoroughly and chopped
Half an 8-ounce can water chestnuts, drained and chopped
Cooking Directions
If you want to serve this dish hot, preheat oven to 350 degrees.
In a large bowl, combine cream cheese, sour cream, mayo, and 3 tablespoons Parm-style topping. Mix well. Add salt and cayenne pepper, and stir until smooth. Set aside.
In a pan sprayed with nonstick spray, cook shallots and garlic over medium heat on the stove until soft, 1 to 2 minutes.
And shallot-garlic mixture to the large bowl, along with spinach, artichoke hearts, water chestnuts. Stir well.
If serving dip cold, top with remaining 1 tablespoon Parm-style topping and you're done!
If serving dip hot, transfer to a medium casserole dish, top with remaining Parm-style topping, and then bake in the oven for about 30 minutes, until bubbly. Let cool slightly before serving.
Per Serving (1/3rd cup): 91 calories, 1.5g fat, 584mg sodium, 11g carbs, 2g fiber, 3.5g sugars, 7g protein
Makes 8 servings
Other Recipes That You Might Like