Roasted Lamb Rack and Grilled Lamb Tongue with Lemon Mint Dressing
From 'Chef's Table'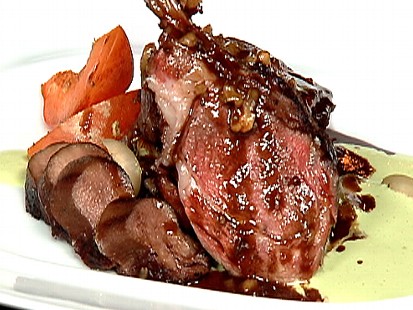 Oak Room executive chef Eric Hara sears meat with a lemon mint dressing.
From the kitchen of Eric Hara
|
Ingredients
Quinoa:
1c quinoa
1qt chicken stock
Lamb Braise:
6 lamb shanks (marinate in vadouvan overnight)
2 leeks, medium dice
5 garlic cloves, crushed
2 shallots, medium dice
1 sprig of thyme
1t vadouvan
1t raz al hanout
1/8c apricots, dried
1/8c walnuts, chopped
1.5 red beefsteak tomato, large dice
1c white wine
1.75qt chicken stock
1.5 lemon confit, rough chop
Lemon Mint Dressing:
6 garlic cloves, crushed w/ 1t salt
6 lemons, juiced
1c water
3t honey
3c evoo
3t mint
3t fennel seed, toasted & ground
(to taste) salt & pepper
Cooking Directions
Mix quinoa and chicken stock until tender.
Combine ingredients for lemon mint dressing.
Preheat oven to 350°F degrees. Then:
Sear off the lamb. Add mirepoix and sweat. Add lemon confit and tomato; cook until softened.
Deglaze with white wine. Cook until reduced by half
Add apricots & walnuts and cook until softened. Add spices & liquid. Add lamb back to the liquid.
Cook at 350°F for 2½ hours (until fork tender).
Strain and peal the tongue.
Reduce the sauce until thickens.
Two racks of lamb French cut in half.
Roast at 350°F for 20 minutes until 135°F.
Other Recipes That You Might Like