Shannon Payette Seip's Green Gobbler Creamy Green Sauce
Recipe Courtesy Shannon Payette Seip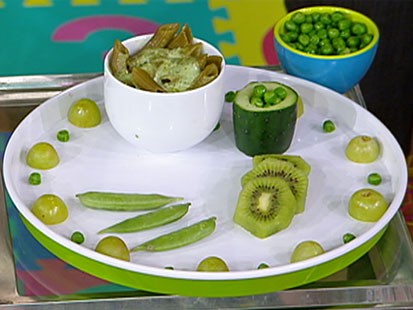 From the kitchen of Shannon Payette Seip
|
Fill your plate with everything green at the market-from green spinach fettucine topped with Creamy Green Sauce (recipe follows) to green grapes, broccoli florets, snap peas, and anything else that's green!
Ingredients
2/3 cup low-fat cream cheese
3 tablespoons pesto
2/3 cup low-fat milk
Cooking Directions
Heat a small saute pan over low heat.
In a bowl, mix the cream cheese and pesto together until smooth. Slowly add the milk and mix really well. While you're mixing, take turns thinking of all the toys in your house that are green.
Add the pesto mixture to the saute pan. Heat the sauce until it starts to bubble, then stir it up.
Mix 2 cups cooked pasta with the creamy green goodness. Sing any song with the word "green" in it, as you gobble your food down!
Other Recipes That You Might Like