Shannon Payette Seip's Stick Stacks
Recipe Courtesy Shannon Payette Seip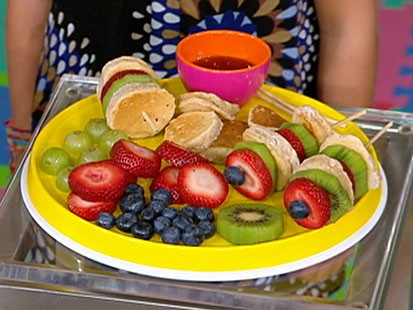 From the kitchen of Shannon Payette Seip
Ingredients
1 3/4 cups unbleached all-purpose flour
3 tablespoons packed light brown sugar
1 tablespoon baking powder
2 tablespoons flax meal
Pinch of ground cinnamon
3 eggs
1 teaspoon vanilla extract
1 tablespoon unsalted butter, softened
1 cup milk
4 strawberries, cut widthwise into thin slices
2 kiwis, peeled and sliced widthwise into circles
1/4 cup blueberries
Maple syrup, for serving
4 skewers
Cooking Directions
Chant "Pancakes! Pancakes!" as you combine the flour, brown sugar, baking powder, flax meal, and cinnamon.
Combine the eggs and vanilla in a mixing bowl. Add the butter and milk. Slowly add the egg mixture to the flour mixture. Stir until smooth. Chill in the freezer for 5 minutes.
Preheat a griddle to low. Lightly spray the griddle with nonstick spray. Ladle the pancake mixture onto the griddle to make 2-inch mini pancakes.
When the pancakes start to bubble lightly and the edges turn golden brown, flip them over. All bitty bakers should flip around the kitchen, as if they were just flipped with a spatula. Cool on the other side for 1 to 2 more minutes, until the pancakes come off the griddle easily with a spatula.
Layer the pancakes and fruit on the skewers. Dip in maple syrup and eat one layer at a time.
Recipe Summary
Main Ingredients: unbleached all-purpose flour, baking powder, eggs, milk, strawberries, blueberries
Course: Breakfast