Emeril's Italian-Style Grilled T-Bone Steaks
From 'Emeril at the Grill'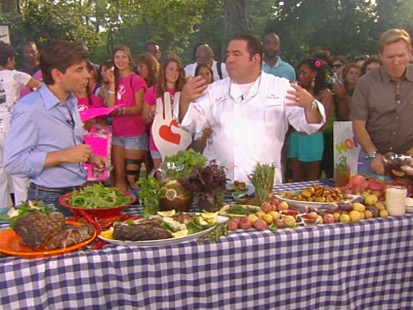 The chef prepares a T-bone steak, roasted potatoes and sauteed peaches.
From the kitchen of Emeril Lagasse
This is one of the most popular dishes served at several of my restaurants. For all you T-bone fans out there, this one's for you.
Ingredients
3 T-bone steaks, about 1 1/2 inches thick and 1 1/2 to 2 pounds each, at room temperature
1/2 cup plus 1 tablespoon extra-virgin olive oil
2 tablespoons kosher salt
1 tablespoon freshly cracked black pepper
6 ounces fresh arugula, rinsed and spun dry
2 tablespoons freshly squeezed lemon juice, or more to taste
1 1/2 teaspoons coarse sea salt, or more to taste
1/2 cup 1-inch-wide strips of shaved Parmigiano-Reggiano cheese, for garnish
Cooking Directions
Preheat a grill to medium-high.
Rub each steak with 1 tablespoon of the olive oil, and season each steak with 2 teaspoons of the kosher salt and 1 teaspoon of the cracked black pepper.
Grill the steaks, rotating them 90 degrees midway through cooking, for 6 to 8 minutes. Turn the steaks over and grill, rotating them midway through cooking, for 6 to 8 minutes for medium-rare. Transfer the steaks to a platter and let them rest for 5 minutes before serving.
When you are ready to serve them, slice the two sides of each steak away from the T-shaped bone, and then very thinly slice each portion of steak against the grain. Divide the arugula evenly among six large dinner plates, and arrange the steak slices evenly on top of the greens. Drizzle any accumulated meat juices over the meat.
Sprinkle 1 teaspoon of the lemon juice and 1 tablespoon of the remaining olive oil over each plate. Sprinkle 1 /4 teaspoon of the sea salt over each plate, and serve immediately, garnished with the strips of Parmigiano-Reggiano.
* Recipe courtesy Emeril Lagasse, "Emeril at the Grill", HarperStudio Publisher, New York, 2009, courtesy Martha Stewart Living Omnimedia, Inc.
Food styled by Karen Pickus
Recipe Summary
Main Ingredients: t-bone steak, arugula
Course: Brunch, Dinner, Lunch, Main Course, Side Dish