Emeril's Bay, Thyme, and Rosemary Roasted Potatoes
From 'Farm to Fork'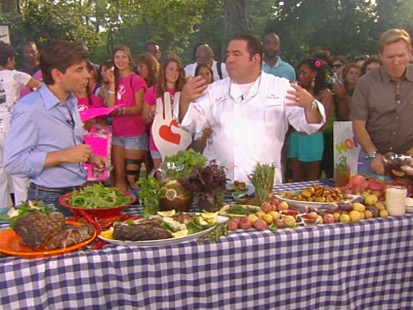 The chef prepares a T-bone steak, roasted potatoes and sauteed peaches.
From the kitchen of Emeril Lagasse
|
Here is a simple and scrumptious way to enjoy potatoes. You like baked potatoes, don't you? In this recipe, the potatoes roast on a bed of fresh herbs to highlight their intrinsically satisfying flavor.
Ingredients
2 pounds baby potatoes, such as Ruby Crescent or fingerling (no larger than 3 inches in diameter), rinsed and patted dry
1/4 cup olive oil
1 tablespoon coarse sea salt
1 teaspoon hot smoked paprika
1/4 teaspoon freshly ground black pepper
6 fresh bay leaves, or 3 medium dried
6 sprigs fresh thyme
3 sprigs fresh rosemary (each about 6 inches long)
2 tablespoons butter, at room temperature
Cooking Directions
Preheat the oven to 425°F.
Slice the potatoes in half lengthwise and place them in a medium bowl. Add the olive oil, salt, paprika, pepper, bay leaves, thyme sprigs, and rosemary sprigs. Toss thoroughly to combine. Arrange the herbs on a small rimmed baking sheet, and place the potatoes on top. Set the bowl aside.
Roast the potatoes for 20 minutes.
Remove the baking sheet from the oven and transfer the potatoes and herbs to the bowl you set aside. Toss well, and then carefully return the potatoes to the hot baking sheet. Roast for another 15 to 20 minutes, or until knife-tender.
Return the potatoes to the bowl one last time, and add the butter; toss the potatoes well, discard the bay leaves and herb sprigs, and serve immediately.
* Recipe courtesy Emeril Lagasse, "Farm to Fork: Cooking Local, Eating Fresh" courtesy MSLO, Inc
Food styled by Karen Pickus
Other Recipes That You Might Like