Watermelon and Lime Salad
From 'Chef's Table'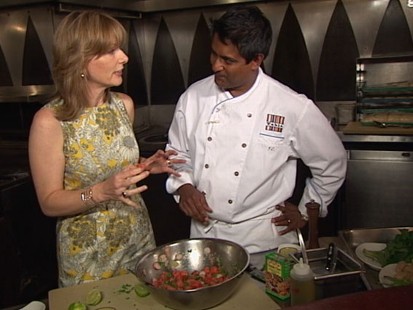 Tabla exec chef Floyd Cardoz combines fruit with zesty freshness.
From the kitchen of Floyd Cardoz
|
Ingredients
For the Watermelon and Lime Salad:
1 teaspoon fresh root ginger, peeled and minced
1 hot chili pepper, seeds removed, finely minced
1 lime, zested and cut into segments
1 lime, juiced
2 tablespoons extra virgin olive oil
4 cups watermelon, diced and seeds removed
2 sprigs mint
1 sprig cilantro
¼ cup breakfast radish, thinly sliced
Chat masala to taste (available at Indian and Asian groceries)
Black pepper to taste
Cooking Directions
Combine lime zest, lime juice, ginger, chili, chat masala, black pepper and extra virgin olive oil in a medium bowl.
Combine the watermelon, radishes, lime segments, mint, and cilantro in a separate bowl.
Just before serving, dress by slowly pouring the juice mix over the salad.
Other Recipes That You Might Like