Black Pepper Chicken Curry with Coconut Basmati Pilaf
Chef Floyd Cardoz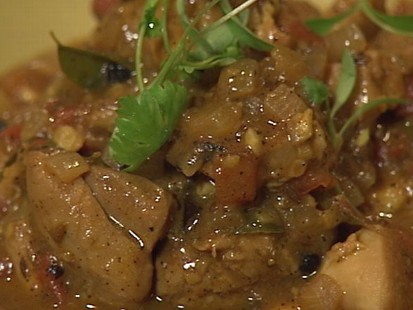 Tabla exec chef Floyd Cardoz sautes chicken with Indian flare.
From the kitchen of Floyd Cardoz
|
Ingredients
For the Black Pepper Chicken Curry:
3 tablespoons canola oil
1 tablespoon whole cumin
2 sprigs curry leaves
1 large white onion, diced
1 tablespoon minced ginger
1 tablespoon minced garlic
1 tablespoon ground black pepper
1 teaspoon turmeric
2 cups diced tomatoes or canned tomatoes
1 tablespoon tamarind
1 lbs boneless chicken, cut into 1 ½ inch cubes
Salt
For the Coconut Basmati Pilaf:
2 cups white basmati rice
1 cup coconut milk
1 ½ cups chicken or vegetable stock
3 tablespoons canola oil
1-inch piece cinnamon stick
3 cloves
1 cup finely chopped white onion
2 bay leaves
Generous pinch of kosher salt
½ teaspoon black cumin seeds (shah jeera) (optional)
Cooking Directions
To Prepare Black Pepper Chicken Curry:
Season the chicken with salt and let stand in the refrigerator for 20 – 30 minutes.
Place a medium sized stew pot over moderate heat. Add the oil and when it shimmers add the whole cumin, cook for 1 minute.
Next, add curry leaves and let them pop and bloom. Approximately 1 minute. Add the onions and cook until translucent.
Add ginger and garlic and cook for 2 – 3 minutes. Add black pepper and turmeric and cook for 3 minutes more.
Add the tomato puree and cook for 5 – 7 minutes on low heat.
Add the seasoned chicken, salt to taste and tamarind. Cover and simmer for 20 minutes until chicken is done. Serve with rice.
To Prepare Coconut Basmati Pilaf:
Put the rice in a large bowl and fill the bowl with cold water from the tap. Swish the grains around gently with your hand then pour off the water. Wash the rice about 7 more times in this way, or until the washing water loses its murkiness and remains clear.
Cover the rice in the bowl with lukewarm water from the tap and let soak for 20 minutes. Drain the rice in a sieve.
Heat the stock in a small pot over moderately high heat until hot.
Heat the oil in a 4-quart pot over moderate heat until warmed through and add the cinnamon and cloves. Cook for about 1 minute, or until the spices are fragrant.
Add the onion and cook, stirring, until softened (don't let it color), about 3 minutes. Add the bay leaves and drained rice, stirring to coat the rice with the oil.
Other Recipes That You Might Like