Apple Tart
A Very Delicious French Tart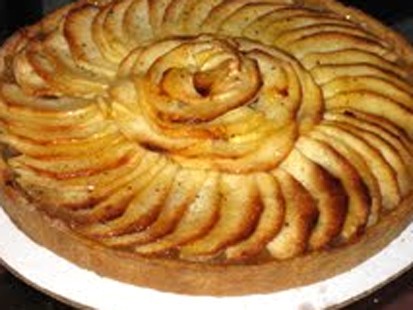 From the kitchen of Lindsey Antis
Ingredients
For the compote
3 Granny Smith apples
1/4 cup sugar
1/2 teaspoon vanilla
1/4 cup water
A squeeze of lemon juice
For the crust
1 cup plus 1 teaspoon butter
1/2 cup of powdered sugar
3 eggs
2 1/4 cup cake flour
For the assembly of the tart
3 Granny Smith apples
All of the apple compote
1/2 of the dough
2-3 tablespoons of butter for brushing
Sugar to sprinkle
Cooking Directions
In a mixer cream the powdered sugar and butter until light and fluffy (between 3-5 minutes). Add eggs one at a time and mix well after each addition. Add cake flour all at once. Mix slowly just to combine. Wrap dough and refrigerate until firm. A full day is best, but a couple hours will work also. This recipe will make enough for two crusts, but the dough can be frozen well or can rest in the fridge for a week.
Peel, halve and core apples. Cut apples into 1/2 inch cubes; try to keep the pieces of equal size so that they cook evenly. Place the apple, sugar, vanilla, lemon juice and water into a saucepan. Cover, place over low heat, and cook stirring occasionally. The compote is finished when the apples are translucent and the water has evaporated. If the apples are translucent before the water has evaporated take the cover off and turn the heat to high to get rid of remaining water.
Preheat the oven to 350º F. Roll out the dough into a 10 inch circle. It should be about an 1/8 of an inch thick. Line a tart pan or a flan ring with the dough and chill the shell for about a 20 minutes. Fill the chilled shell three-quarters full with the apple compote. Peel, halve and core the remaining three apples. Cut the apples into 1/8 of an inch slices. Arrange the slices around the tart shell starting from the outside, overlapping the core, and keeping the slices close together.
Fill the void in the center of the tart with scraps of apple before arranging the final slices. Bush with butter and sprinkle with sugar. Bake the tart for 1 hour until the crust is brown and the apples are caramelized and tender. Finish with powdered sugar.
Courtesy of "The Fundamental Techniques of Classic Pastry Arts"
Recipe Summary
Main Ingredients: apples, butter, sugar
Course: Dessert, Snack