Glazed Peaches and Blackberries with Ricotta
Chef Gale Gand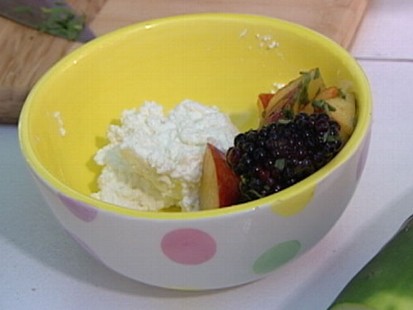 Tru exec pastry chef Gale Gand creates a refreshing fruity dessert.
From the kitchen of Gale Gand
|
Ingredients
For the Glazed Peaches and Blackberries with Ricotta:
2 peaches, stone removed and cut into chunks
2 tablespoons brown sugar
16 blackberries
2 cups hand dipped ricotta
Sprinkle on finely chopped tarragon
Cooking Directions
To Prepare Glazed Peaches and Blackberries with Ricotta:
In a bowl, place the peaches and the brown sugar and toss to dissolve the sugar and encourage the peaches to start giving off their juices. Let sit at least 15 minutes and up to 8 hours.
When you are ready to serve, place 1/2 cup of ricotta in each of 4 dessert bowls.
Add the blackberries to the peaches and toss them one time to coat with the brown sugar glaze.
Sprinkle in chopped Tarragon.
Spoon the fruit next tot the ricotta and serve.
Other Recipes That You Might Like