Rocco's Peach and Blueberry Cobbler with Ginger and Cinnamon
A Gorgeous Dessert That's Naturally Low in Calories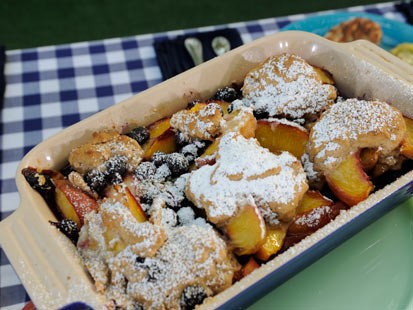 From the kitchen of Rocco DiSpirito
This is a gorgeous dessert and naturally low in calories, as long as you don't add a ton of sugar and don't serve it with whipped cream. It just doesn't need it. In the heat of the oven, as they steam under the topping, the peaches and blueberries meld into a magical, flavorful filling that needs little help from sugar or fat. The spices are really all the fruit requires.
Ingredients
Nonstick cooking spray
4 ripe peaches, peeled, pitted, and sliced
1 cup fresh blueberries
1/4 cup plus 2 tablespoons granulated Splenda
3/4 cup plus 1 tablespoon
Bisquick Heart Smart baking mix
1 teaspoon ground ginger
1/4 teaspoon ground cinnamon
1/3 cup skim milk
2 tablespoons Turbinado sugar, such as Sugar in the Raw
Cooking Directions
Preheat the oven to 425°F. Spray a 7×11-inch glass baking dish with cooking spray, and set it aside.
In a medium bowl, mix together the peaches, blueberries, the 1/4 cup Splenda, and the 1 tablespoon baking mix. Pour the fruit mixture into the prepared baking dish.
In a medium bowl, combine the remaining 2 tablespoons Splenda, the remaining 3/4 cup Bisquick, and the ginger, cinnamon, and milk. Stir until the mixture forms a soft dough. Drop spoonfuls of the dough evenly over the fruit mixture. Sprinkle the sugar over the dough.
Bake the cobbler until the fruit is tender and the biscuit topping is golden brown, about 30 minutes. Let it rest for 5 minutes before serving.
NOW YOU CAN EAT THIS!
Before After
Fat 33g 1g
Calories 681 96
Protein: 2 g
Carbohydrates: 22 g
Cholesterol: 0 mg
Fiber: 2 g
Sodium: 158 mg
Food styled by Karen Pickus.
Recipe Summary
Main Ingredients: peaches, blueberries, splenda, bisquick, ginger, cinnamon, skim milk
Course: Dessert