Fig Newtons
Make Your Own Store-Bought Favorites!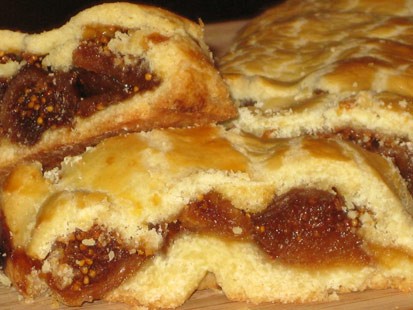 From the kitchen of Lindsey Antis
|
Ingredients
For the dough
18 tablespoons butter (2 sticks and 2 tablespoons)
2/3 cup sugar
1 egg
1 egg yolk
Pinch of salt
2 cups of flour
For the filling
2 cups dried figs
1/2 cup sugar
3 eggs
1 cup water
Juice of 1 lemon
For the egg wash
2 eggs
2 teaspoons of milk
Cooking Directions
Prepare the dough first because it will need to chill. To make the dough, cream the butter and sugar together until light and fluffy. Add the egg and egg yolk slowly and mix thoroughly, scraping down the sides of the bowl often. I usually find that some butter gets stuck to the bottom of the bowl without being thoroughly incorporated so double check there. Add the salt and flour just to combine.
Prepare the fig filling. Remove the woody stems from the figs and chop coarsely. I cut them into four sections. Then put the sugar, figs, water, and lemon juice into a small saucepan over low heat and let them cook. My figs took somewhere between 15-20 minutes to get tender, stirring occasionally to prevent burning. If your mixture gets dry before the figs are tender just add more water, or if you have extra water when the figs are tender raise the heat slightly and cook until the excess water is gone. Put the figs on a baking sheet and let them cool.
Prepare the egg wash. Wisk the eggs and the milk together.
Assemble the cookie logs. Divide the dough in half and put the unused portion back in the fridge. Roll the dough into a rectangle (about 6 in x 24 in) on a floured surface and place it on a piece of parchment paper. Please note that this dough can be temperamental and the first time I worked with it I had a tough time keeping it from cracking. If this happens to you then warm it up in your hands, reform the dough ball and try rolling it again.
Once your dough is rolled place half of the figs on the dough. Put them closer to one side than the other. Brush the egg wash on the edges of the dough. Use the parchment paper to lift the dough over the figs. Then do the same thing on the other side. The longer side should wrap over the shorter edge. Then flip the log over. Brush the top and sides of your log with egg wash. Repeat the whole assembly process for the second log. Keep both logs on parchment paper when you are done.
Chill logs for 20-30 minutes and then bake for 15-20 min at 350°F or until nicely browned. Let cool and then cut about 1 1/2 in pieces.
Additional Note
*The log can be refrigerated for up to one week before being baked.
Courtesy of "The Fundamental Techniques of Classic Pastry Arts"
Other Recipes That You Might Like