Club Burger Sliders with Avocado-Ranch Dressing
A Mouthful of Flavor and Flair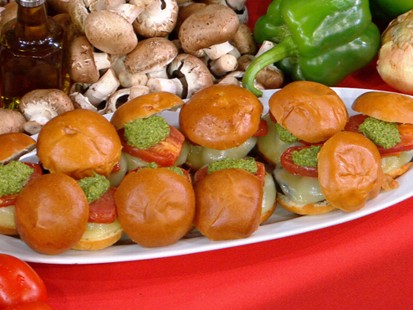 The TV chef prepares some tasty sliders with barbecue sauce and cucumber slaw.
From the kitchen of Rachael Ray
Creamy avocado-ranch sauce tops bacon-turkey sliders with lettuce and tomatoes; fresh herbs with a touch of hot sauce add flavor and flair.
Ingredients
Extra virgin olive oil (EVOO) or vegetable oil, for drizzling
6 slices center-cut bacon, chopped
2 pounds ground turkey or ground turkey breast
1 small onion
1 tablespoon hot sauce (eyeball it)
2 tablespoons poultry seasoning (a couple of generous palmfuls)
Salt and pepper
1 Hass avocado
1 cup sour cream
Juice of 1 lemon
1 clove garlic, grated or finely chopped
A small handful of fresh chives, finely chopped
A small handful of fresh dill, finely chopped
A small handful of flat leaf parsley, finely chopped
16 slices good-quality white or whole wheat bread
Bibb or butter lettuce leaves, for serving
2 plum or vine-ripened tomatoes, thinly sliced
Cooking Directions
Pre-heat an outdoor grill or griddle pan to medium-high. Place a skillet over medium-high heat. Add a drizzle of EVOO and the bacon to the pan and cook until crisp, about 5 minutes. Drain on paper towels to cool, then chop.
While the bacon cooks, place the turkey in a large bowl. Grate the onion on top of the turkey to get 3-4 tablespoons of onion juice. Add the hot sauce, poultry seasoning, salt and lots of pepper. Add the cooked bacon, mix and form eight slider patties, about 2 1/2-3 inches in diameter. Drizzle with EVOO to coat lightly. Cook the sliders on the grill or griddle, turning once, until cooked through, 8-10 minutes.
While the sliders cook, pre-heat the broiler. Place the avocado in a food processor. Add the sour cream, lemon juice, garlic, chives, dill and parsley; season with salt and pepper. Process into a smooth, thick sauce.
Using a 3-inch round cookie cutter, cut out rounds of bread (or trim 1 inch of crust all the way around the bread slices to form small squares); discard the crusts. Arrange the bread on a baking sheet and toast under the broiler. Serve the bacon-turkey sliders with the lettuce, tomatoes and avocado-ranch sauce between the toasts.
Food styled by Karen Pickus
Recipe Summary
Main Ingredients: bacon, ground turkey, ground turkey breast, avocado
Course: Dinner, Lunch, Side Dish