Roasted Sirloin with Market Vegetables
Chef John Fraser/Chef Harold Dieterle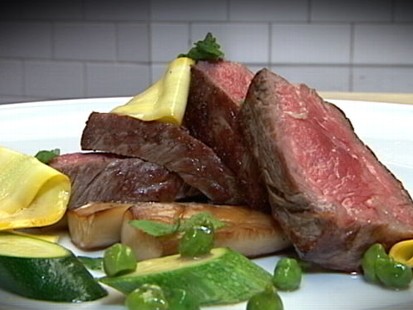 Chefs John Fraser and Harold Dieterle kickbox and saute around a kitchen.
From the kitchen of John Fraser & Harold Dieterle
|
Ingredients
4 sirloin steaks, 8 oz each
4 t fresh garbanzo beans, peeled
4 king trumpet mushrooms, cut in half and scored
2 summer squash, 1 sliced the other sliced very thinly
1 c white wine vinegar
1Tt sugar
1 cup grapeseed oil for cooking
2T extra virgin olive oil for finishing
Salt and pepper to taste
4 sprigs thyme
2 cloves garlic
2.5T butter
1 c vegetable stock
Cooking Directions
For the sirloin:
Season the sirloin heavily on all sides with salt and pepper and sear in a smoking hot sautee pan.
When a dark crust has been achieved on all sides, add 1 T of butter, the thyme, and garlic to the pan and baste over medium heat.
Continue to cook for 5 minutes in this method and remove from the pan onto a cookie sheet.
Place in a 400 degree oven for 5 minutes. After removing from the oven let the steaks rest for 6-10 minutes before slicing.
If they are not hot enough, give them a quick flash back in the oven for 2 minutes.
For the vegetables:
In a sautee pan with 2 t of grapeseed oil, sear the cut and scored side of the mushrooms over medium high heat.
When they begin to brown, turn them over and add the vegetable stock and 1/2t of butter.
Braise the mushrooms for 5 minutes over medium heat.
Add the squash and toss lightly, just warming them, season lightly with salt.
Spoon the vegetables onto 4 plates and top with the sirloin, scattering the raw garbanzo beans about.
Other Recipes That You Might Like