Momma's Chicken and Rice
Serves 4 or One Hungry Football Playing Son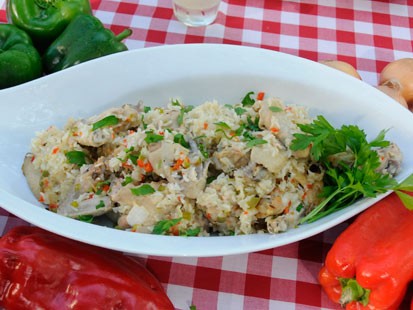 From the kitchen of Warren Sapp
Ingredients
8-10 chicken wings
1 cup long-grain rice
1 tsp. garlic powder
1/4 C. chopped onions
1/4 C. chopped green pepper (red) (optional)
3 cubes of chicken bouillon
Cooking Directions
Rinse wings and put in 2-quart pot. Cover the wings with about 3 cups of water. Add salt and pepper to taste, along with bouillon cubes and garlic powder. Boil for about 45 minutes.
Add remaining ingredients, cover and bring to a rapid boil. Stir well, reduce heat and let simmer until moist, and rice is fluffy.
*NOTE: If rice does not seem soft enough, just add a little water.
Recipe Summary
Main Ingredients: chicken wings, long grain rice
Course: Dinner, Lunch, Main Course, Side Dish