The Bidens' Pasta Caprese
Sunny Anderson Cooks for the Vice President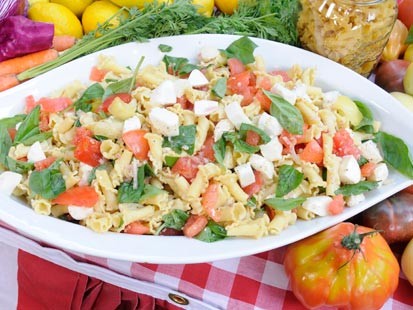 From the kitchen of Sunny Anderson
Vice President Joe Biden and his wife, Jill, honored wounded troops with a cookout at their home -- and they asked Sunny Anderson to help them plan the menu.
Ingredients
1/3 cup extra-virgin olive oil
1/4 cup fresh lemon juice
1 shallot, minced
1 small clove garlic, minced
Kosher salt and freshly ground pepper
1 teaspoon sugar (optional)
2 pounds mixed heirloom tomatoes, cored, seeded and cut into 1/2-inch pieces
1 pound pasta, such as campanelle, penne or fusilli
12 ounces fresh mozzarella cheese, cut into 1/2-inch pieces
1/2 cup chopped fresh basil
1/2 teaspoon grated lemon zest
Cooking Directions
Whisk the olive oil, lemon juice, shallot and garlic in a large bowl. Season with salt and pepper. Add sugar, if desired (depending on the sweetness of your tomatoes). Add the tomatoes and gently toss.
Marinate at room temperature, about 15 minutes.
Meanwhile, bring a large pot of salted water to a boil. Add the pasta and cook as the label directs. Drain in a colander and run under cold water to stop the cooking.
Add the pasta and mozzarella to the tomato mixture and gently toss to combine. Stir in the basil and lemon zest, and season with salt and pepper.
Recipe Summary
Main Ingredients: pasta, heirloom tomatoes, mozzarella cheese
Course: Dinner, Lunch, Main Course, Party Platter, Side Dish, Pasta