Sunny Anderson's Vegetable Chips with Blue-Cheese Dip
Ditch the Salt for Something Healthy and Snackable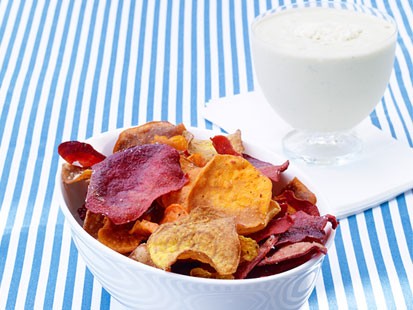 From the kitchen of Sunny Anderson
|
Vice President Joe Biden and his wife, Jill, honored wounded troops with a cookout at their home -- and they asked Sunny Anderson to help them plan the menu.
Ingredients
For the dip:
1/2 cup heavy cream
1 8-ounce container sour cream
2 tablespoons fresh lemon juice
4 ounces blue cheese, crumbled
2 scallions, finely chopped
1/2 teaspoon garlic powder
Kosher salt and freshly ground pepper
For the chips:
Vegetable oil, for frying
All-purpose flour, for dredging
2 medium to large beets (1 red, 1 yellow), peeled and sliced 1/8 inch thick
Kosher salt
1 sweet potato, peeled and sliced 1/8 inch thick
Cooking Directions
To make the dip, blend the heavy cream in a blender until slightly thickened. Add the sour cream, lemon juice, blue cheese, scallions and garlic powder and pulse to combine. Season with salt and pepper. Cover and chill 2 hours.
To make the chips, heat 1 to 2 inches vegetable oil in a large pot over medium heat until a deep-fry thermometer registers 350 degrees. Rest a cooling rack on a baking sheet lined with paper towels. Spread some flour in a baking dish, add the beet slices and toss. Tap off the excess flour, then fry the beets in batches (don't overcrowd the pot), stirring occasionally to make sure they don't stick to each other, 3 to 5 minutes, or until the fizzling around the chips slows down.
Transfer the chips with a slotted spoon to the rack and season with salt. Let cool at least 5 minutes; the chips will crisp up as they cool. Return the oil to 350 degrees between batches.
Replenish the oil, if necessary, and return to 350 degrees. Dredge the sweet potato slices in flour and fry in batches, stirring, 2 to 3 minutes. Transfer to the rack, season with salt and let cool. Serve the chips with the blue-cheese dip.
Other Recipes That You Might Like