Gluten-Free Pepperoni Pizza
Gluten- and Dairy-Free Lunch or Dinner Option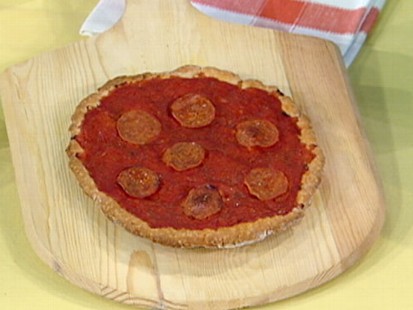 One mother's guide to cooking for a food-sensitive child.
From the kitchen of Silvana Nardone
Ingredients
1 cup tomato puree
1/2 tablespoon extra-virgin olive oil, plus more for brushing
1/4 teaspoon salt
2 tablespoons water
2 (8 1/2-inch/21-cm) baked Perfect Pizza Crusts or store-bought baked pizza crusts
Crushed red pepper flakes, to taste
14 slices pepperoni (about 4 ounces/125 g), for topping
Cooking Directions
In a small bowl, stir together the tomato puree, olive oil, salt and water
Position a rack in the bottom of the oven with a baking stone on the rack and preheat to 450 degrees.
Working with one pizza crust at a time, brush with olive oil, sprinkle with red pepper flakes and spoon on about 1/4 cup of tomato mixture, leaving a 1/2-inch (1-cm) border of plain crust.
Top with half of the pepperoni and bake until crust is golden and the pepperoni is crisp, 6-8 minutes.
Repeat with the remaining pizza crust and toppings.
Add all ingredients to blender and whip until smooth.
Recipe Summary
Main Ingredients: tomato puree, pepperoni, pizza crust, olive oil
Course: Lunch, Dinner
More Info: Wheat/Gluten Free, Lactose Free