Smoky-Spicy Grilled Corn
This Is a Natural Complement to Anything Grilled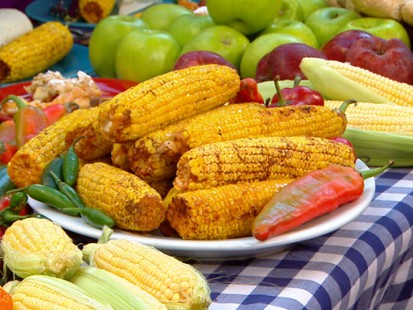 "High Flavor, Low Labor" author J.M. Hirsch's fast, easy meals to feed a crowd.
From the kitchen of J.M. Hirsch
Prefer to keep it simple? Substitute 1 or 2 tablespoons of curry powder for the seasonings called for here. The flavor won't be as smoky, but it will still be delicious. You also could substitute coconut cream for the butter.
Grilled corn is a natural with anything else that goes on the grill, such as spicy ribs, burgers, and my sweet-and-savory BBQ chicken.
Ingredients
1/2 cup (1 stick) butter, softened
1 tablespoon kosher salt
1 tablespoon ground black pepper
1 tablespoon smoked paprika
1/2 teaspoon ground cumin
1/2 teaspoon chili powder
8 ears corn, husked
Cooking Directions
Heat a grill to medium-high.
In a small bowl, combine the butter, salt, pepper, paprika, cumin, and chili powder. Use a fork to mash everything to a smooth paste.
Rub a generous amount of the butter mixture over each ear of corn. Wrap each ear in foil, then grill for 4 to 5 minutes.
Recipe Summary
Main Ingredients: corn, chili powder, cumin
Course: Dinner, Side Dish, Vegetable