Delightful Ranch Dressing Kids Will Love
For Your Child's Salad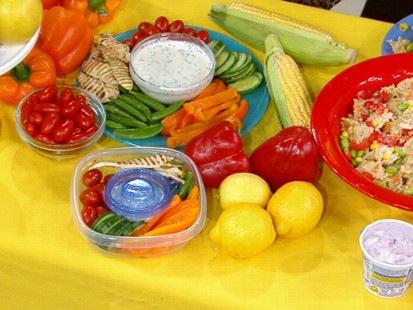 "So Easy" author Ellie Krieger's tips on packing nutritious lunches for kids.
From the kitchen of Ellie Krieger
Ingredients
1/3 cup plain Greek-style nonfat yogurt
1/3 cup low-fat buttermilk
3 tablespoons mayonnaise
1 1/2 teaspoons fresh lemon juice
1 teaspoon Dijon mustard
1/2 teaspoon onion powder
1/4 teaspoon garlic powder
1 tablespoon finely chopped fresh chives
Salt to taste
Cooking Directions
Heat the oven to 375°F. Coat a 9-inch square casserole or baking pan with cooking spray.
In a large bowl, mix the butter, brown sugar, ginger, lemon juice, cinnamon, cardamom, allspice, nutmeg, salt, and cornstarch. Add the apples, peaches, and cherries, then toss to coat.
Transfer the fruit, using a rubber spatula to scrape the sides of the bowl, to the prepared pan. Set aside.
In a food processor, combine the cookie dough and oats. Pulse several times, or until the mixture resembles coarse, wet sand. Sprinkle the mixture over the fruit.
Bake for 20 to 25 minutes, or until the topping is lightly browned and the fruit bubbles. Cool slightly before serving.
In a medium bowl, whisk together the strained or Greek-style yogurt and the rest of the ingredients.
Makes 1 cup
Serving size: 2 tablespoons
Per Serving:
Calories 50
Total fat 4g (Sat fat 0.5g, Mono fat 0g, Poly fat 0g)
Protein 1g
Carb 2g
Fiber 0g
Cholesterol 2.5mg
Sodium 69mg
Recipe Summary
Main Ingredients: greek-style nonfat yogurt, buttermilk, mayonnaise
Course: Dressing
More Info: Low Calorie, Low Fat