Butterflies and Rainbows Pasta Salad
Have Fun With Lunch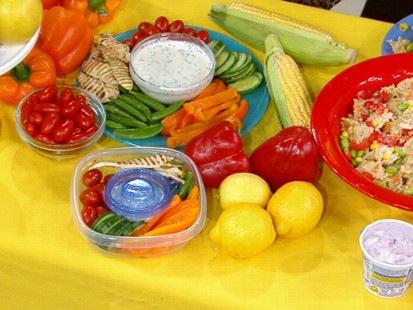 "So Easy" author Ellie Krieger's tips on packing nutritious lunches for kids.
From the kitchen of Ellie Krieger
This dish is the centerpiece of my daughter Bella's favorite lunch box meal. It gets its name from the red, orange, green and yellow vegetables it contains along with the butterfly-shaped pasta. Bella likes the challenge of getting every color onto each spoonful. Serve with a blueberry yogurt so you get the full color spectrum.
Ingredients
8 ounces bow tie pasta, preferably Barilla whole grain
3 tablespoons plus 1 teaspoon extra-virgin olive oil
1 cup corn kernels, thawed if frozen
1 cup shelled Edamame, thawed if frozen
1 medium red pepper, diced
2 medium carrots, shredded (about 1/2 cup)
1/3 cup grated parmesan cheese (about 1 ounce)
1/4 teaspoon salt, plus more to taste
Cooking Directions
Cook the pasta according to the directions on the package. Drain, toss with 1 teaspoon of oil to prevent sticking, and cool.
In a large bowl, toss together the cooled pasta, corn, Edamame, red pepper, and carrots. Drizzle with the remaining oil and toss to coat. Add the parmesan cheese and salt and toss to combine. Season with more salt to taste.
Serving size: 1 1/2 cups
Per Serving:
Calories 440
Total fat 17 g (Sat fat 3 g, Mono fat 9 g, Poly fat 2.5 g)
Protein 16 g
Carb 58 g
Fiber 6 g
Cholesterol 5 mg
Sodium 300 mg
Recipe Summary
Main Ingredients: bow tie pasta, corn, edamame, red pepper, carrots
Course: Salad, Pasta, Vegetable
More Info: Low Fat, Low Calorie