Peanut Butter Rice Crispy Treats
Have Fun With Lunch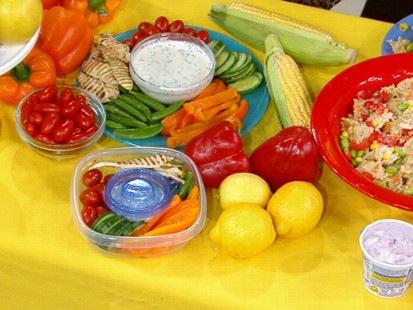 "So Easy" author Ellie Krieger's tips on packing nutritious lunches for kids.
From the kitchen of Ellie Krieger
|
Ingredients
3/4 cup chunky natural-style peanut butter
3/4 cup honey
6 cups crispy brown rice cereal
2/3 cup (3 ounces) dried cherries, chopped
Cooking spray
Cooking Directions
Combine the peanut butter and honey in a large pot and heat over medium-love heat until melted, 2 to 3 minutes. Add the brown rice cereal and cherries and stir to combine until the mixture is sticky. Press into a 9X13-inch pan sprayed with cooking spray. Chill in the refrigerator for 40 minutes. Cut into fifteen 2 1/2 X 3-inch squares.
Makes 15 servings
Serving size: 1 square
Per Serving:
Calories 200
Total fat 7g (Sat fat 1.5g, Mono fat 3g, Poly fat 1.5g)
Protein 4g
Carb 32g
Fiber 2g
Cholesterol 0mg
Sodium 59mg
Other Recipes That You Might Like