Grilled Beef Tenderloin and Arugula Salad
Chef Art Smith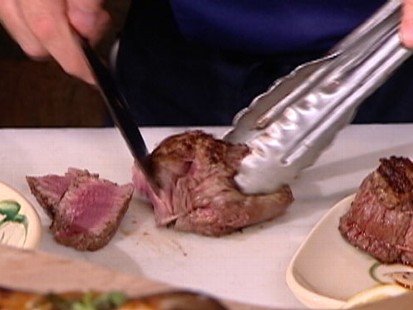 Chicago chef Art Smith demos an easy Oprah favorite.
From the kitchen of Art Smith
|
Ingredients
For the Dish:
12 ounces Allen Brothers beef tenderloin, grilled and sliced
1 pound wild arugula
1 bulb fennel, thinly shaved
1 bunch asparagus, trimmed and grilled
1 pint grape tomatoes
1 red onion, sliced and grilled
1/2 cup low fat feta cheese, crumbled
1 lemon, juiced
2 tablespoons olive oil
Salt and pepper
1 lemon, zested for garnish
10 chives, chopped for garnish
Cooking Directions
Toss all ingredients together in a large serving bowl and season to taste with salt and pepper.
Garnish with the lemon zest and chopped chives.
Other Recipes That You Might Like