Minestra with Beef and Pork Polpette
Cook Up This Meal Ahead of Time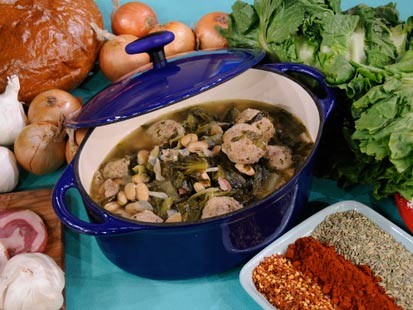 From the kitchen of Rachael Ray
Rachael Ray shares five meals that can be reheated in one pot or dish for easy storage and cleanup all week long.
Ingredients
2 tablespoons extra-virgin olive oil, plus more for drizzling
4 ounces pancetta or speck (a couple of 1/8-inch-thick slices)
2 medium onion, chopped
4 cloves garlic, 3 thinly sliced, 1 peeled
1 starchy potato, peeled and diced or 3/4 cup ditalini or pennette
Freshly ground black pepper
Fresh bay leaf
2 heads escarole, chopped
Freshly grated nutmeg
1 (15 to 18-ounce) can ounces cannellini beans
6 cups chicken stock
2 cups water
3 slices white bread or peasant bread, crust trimmed
Milk
8 ounces ground beef
8 ounces ground pork
1 teaspoon fennel seed or pollen or ground fennel
1 teaspoon paprika or smoked paprika
1 teaspoon crushed red pepper flakes, optional
1 generous handful grated Parmigiano-Reggiano plus more for topping
A handful of fresh flat-leaf parsley, finely chopped
1 egg yolk
1/2 loaf ciabatta bread, for serving
Cooking Directions
Heat extra-virgin olive oil, 2 turns of the pan, in a large pot or Dutch oven over medium-high heat. Add the pancetta and render a couple of minutes, then add the onions and sliced garlic and potato – if you prefer pasta, add later when you reheat the soup. Season the onions, garlic, and potatoes with salt and pepper and add a bay leaf. Cook to soften, and then add the escarole to the pot and season with salt, pepper, and nutmeg, cover to wilt. Stir in the cannellini beans and stock plus 2 cups water. Bring to a boil, and then reduce heat to a rolling simmer.
Meanwhile, douse bread with milk to soften. Place ground meats in bowl. Season the meat with salt and pepper, fennel, paprika, crushed red pepper, cheese, and parsley. Add the yolk to the bowl, squeeze the milk out of the bread and crumble to add to the meat. Drizzle with extra-virgin olive oil and roll meat into walnut-size balls, then add to soup and poach until cooked through.
Cool completely and store soup for make-ahead meal. To reheat the soup: Place in a covered pot and bring to a boil, add the pasta to cook to al dente if you prefer the pasta to potato. Serve soup in shallow bowls with shredded cheese on top and an extra drizzle of extra-virgin olive oil. Crust up some bread in hot oven while soup reheats for mopping.
Cook's note: Wrap the bread in plastic or freeze when you bring home from store.
Recipe Summary
Main Ingredients: pancetta, potato, ground beef, ground pork
Course: Dinner, Lunch, Main Course, Side Dish