Serendipity 3's Frozen Hot Chocolate
A Top Secret Recipe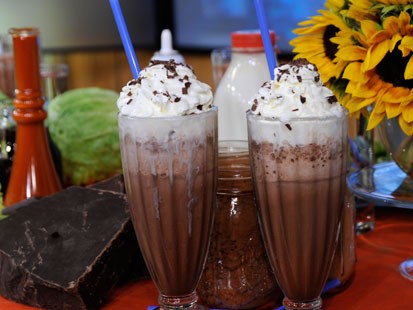 From the kitchen of Todd Wilbur
Oprah named this blended concoction from the New York City-
based Serendipity 3 one of her "favorite things" in 2006, saying
that it made her want to "dance on the chandeliers." Started in a
basement on East 58th Street in 1954, Serendipity 3 has been a
top stop for many celebrities though the years.
Tennessee Williams and Jackie Kennedy were regulars, and Andy Warhol used to pay
for his meals with original drawings. With locations now open in
Boca Raton and Las Vegas, Serendipity 3 is more than just a sweet
shop, it also serves omelets, salads, pizza and ribs. But the joint is
best known for its Frrrozen Hot Chocolate, which is ordered by
about 10,000 customers each month. In the restaurant, each frosty
creation is made by combining a secret dry mix with milk and ice
in a blender on high speed until smooth.
The dessert is poured into a huge goblet, topped with whipped cream and chocolate
shavings, and served with spoons and straws. The chain claims the
secret mix is a blend of many different chocolates, and released a
recipe to the "Oprah Winfrey Show" a while back (posted on the
show's Web site) that supposedly revealed the secret formula. But,
as often seen with secret recipes volunteered by restaurant chains,
this one is an inaccurate clone. The recipe given to Oprah says to
use 6 half-ounce pieces "of your favorite chocolate," but the chocolate
in the restaurant's secret dry mix comes only from cocoa
powders. Also, the recipe doesn't mention anything about nonfat
dry milk, which is a big part of the dry mix. All you have to do is
look at the ingredient list on the $5 package of mix to see ""sugar, nonfat dry milk, dextrose, and cocoas."
That's it. Perhaps the chain doesn't want to surrender a recipe that will compete with
the packaged product it sells online and in stores. That's my job. So
here is an original Top Secret Recipe I've worked up that uses three
popular brands of cocoa, plus dry milk and sugar. Blend this mix
with whole milk and ice and you'll have a delicious (and cheap!)
clone of Oprah's favorite drink that tastes better than any other
recipe out there.
Ingredients
1/3 cup granulated sugar
1/3 cup nonfat dry milk powder
2 tablespoons Ghirardelli cocoa
powder
1 tablespoon Hershey's cocoa
powder
1 tablespoon Scharffen Berger
cocoa powder (see Tidbits)
Pinch salt
1 cup milk
3 cups ice
On top
Whipped cream
Shavings from a semisweet chocolate bar
Cooking Directions
Combine the sugar, dry milk powder, cocoas, and salt in a
small bowl. Pour the milk into a blender. Add the dry mix and ice. Blend until all the ice is crushed and the drink is smooth. Pour
into a large goblet or two 16-ounce glasses. Top the drink
with whipped cream and shavings from a semisweet chocolate
bar (use a carrot peeler), then add a spoon and straw
and serve.
Tidbits: Makes one 30-ounce serving or two 15-ounce servings. If you can't locate this brand of cocoa, use 3 tablespoons Ghirardelli cocoa powder and 1 tablespoon Hershey's cocoa powder.
Recipe Summary
Main Ingredients: dry milk powder, cocoa powder, milk
Course: Drinks, Dessert