Pumpkin Ravioli Stuffing Recipe
Ortanique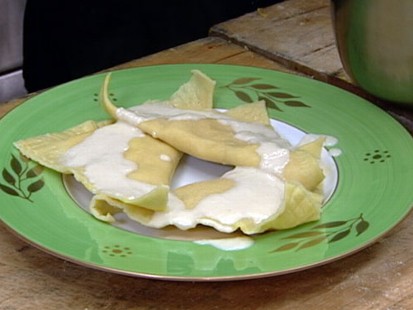 Chef Cindy Hutson's decadent pasta with nut-butter sauce.
From the kitchen of Cindy Hutson
Ingredients
For the Pumpkin Ravioli:
4 Cups peeled & seeded calabaza
1/2 Cup diced onion
3 Cloves of garlic chopped
1/4 Cup of coconut oil
1 Tsp toasted & ground coriander
1/2 Tsp ground cinnamon
1/4 Tsp ground allspice
1 Tbsp Kosher salt
1/4 Tsp ground nutmeg
2 Tbsp picked thyme
2 Egg yolks
4 Ounces mascarpone
1 Tsp orange zest
1 Tsp lemon zest
For the Macadamia Brown Butter:
2 Sticks salted butter
2 Lemons (juiced)
1 Tbsp lemon zest (no pith)
1 Cup sliced leeks (white only)
1 Cup rose wine
2 Cups heavy cream
1 Cup toasted macadamia nuts crumbled
Salt to taste
Cooking Directions
For the ravioli:
Rub the calabaza with coconut oil and sprinkle with cinnamon, nutmeg, allspice, ½ (half) the thyme, salt & pepper.
Roast until soft in a 350 degree oven for about 15 – 20 minutes.
Meanwhile saute the onions & garlic until soft.
Place in a stainless steel bowl.
When cooled down beat the eggs & mascarpone.
Mix in the zests and set aside.
When the calabaza is tender, remove & cool down.
When cooled place egg mixture & calabaza & mix in a food processor.
Taste for salt
Stuff either pasta shells or thin goyza skins to make raviolis.
For the sauce:
Melt the butter on a low simmer skimming off the milk solids as they rise to the top.
As the butter begins to turn a golden nutty color, add the lemon juice and leeks.
Saute the leeks until soft without burning.
Add the crushed macadamia and wine.
Bring to a simmer and cook until the wine is reduced by ½ (half).
Now add the heavy cream and lemon zest.
Salt to taste.
Remove from heat and pour into a blender.
Remove the center cap from the blender lid and cover with a cloth.
Pulse the blender releasing the steam from the sauce and then blend into a smooth sauce.
Strain out the nutty grit through a chinois.
Recipe Summary
Main Ingredients: calabaza, onion, garlic, coconut oil, mascarpone, egg, spices, macadamias, leeks, cream
Course: Dinner, Main Course, Lunch