Orecchiette With White Beans & Pesto
Recipe Courtesy "The CarbLovers Diet"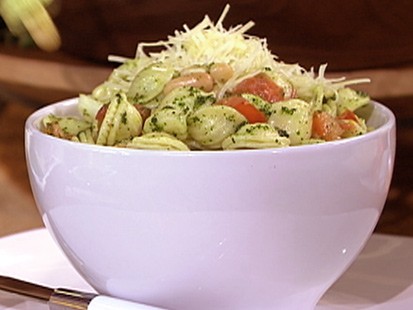 From the kitchen of Ellen Kunes and Frances Largeman-Roth
You can use any small pasta for this dish. Letting it cool to room temperature before serving will boost the Resistant Starch factor even higher.
For more information on "The CarbLovers Diet," please visit www.carblovers.com.
Ingredients
1 cup uncooked orcchiette or seashell pasta
1 teaspoon olive oil
2 garlic cloves, minced
1 15-ounce can white kidney beans, rinsed and drained
3 plum tomatoes, chopped (about 1 1/2 cups)
1/3 cup prepared pesto
1/4 cup Parmesan cheese, shredded
Cooking Directions
Cook pasta according to package directions, omitting salt and fat.
While the pasta cooks, heat olive oil and garlic in a large nonstick skillet over medium-high heat until garlic is fragrant. Add beans and tomato; reduce heat to low, and cook, stirring occasionally, about 5-7 minutes.
Drain pasta, and add to bean mixture. Add pesto; toss to combine. Divide evenly among 4 serving dishes. Top each serving with 1 tablespoon Parmesan cheese.
Recipe Summary
Main Ingredients: orecchiette, olive oil, garlic, white kidney beans, plum tomatoes, pesto, parmesan cheese
Course: Dinner, Pasta