Braised Chicken, Savoy Cabbage and Heirloom Apples in Vermont Cider
Impressive and Delicious Fall Recipe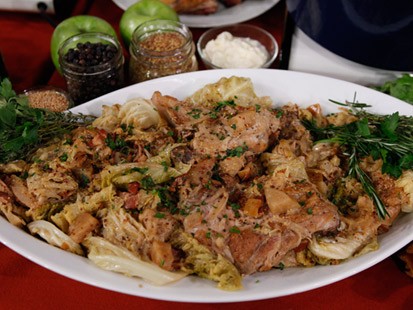 From the kitchen of Emeril Lagasse
Ingredients
2 tablespoons olive oil
1 teaspoon salt
1/2 teaspoon freshly ground black pepper
1 whole chicken cut into quarters
4 ounces thick cut apple smoked bacon
3 shallots, thinly sliced
1 small head Savoy cabbage leaves separated and cut into quarters
1 apple, local variety, cored and diced
1 sprig rosemary
1 sprig thyme
1 sprig oregano
1 sprig parsley
5 juniper berries
1/2 teaspoon mustard seeds
1/2 teaspoon black peppercorns
2 cups Vermont hard cider or fresh apple cider
1 cup chicken stock
1 1/2 tablespoons whole grain mustard
2 tablespoons creme fraiche, optional
Cooking Directions
Preheat oven to 400 degrees F.
Heat a large Dutch oven over medium high heat, when hot add olive oil. Season the chicken with salt and pepper; brown the chicken quarters on one side about 3 to 5 minutes. Turn and cook for 2 to 3 minutes longer. Transfer chicken to a plate.
Reduce the heat to medium, add bacon and shallots to the pan and cook for 3 minutes before adding the cabbage and apple. Continue to cook for 3 minutes longer.
Using a piece of cheesecloth, make a sachet with the rosemary, thyme, oregano, parsley, juniper, mustard seeds and black peppercorns. Add the sachet to the pan.
Transfer the chicken back to the pan and add the hard cider and chicken stock. Cover, bring to a boil over medium high heat and place in the oven. Cook until chicken is fork-tender, 40 to 50 minutes.
Remove the pan from the oven, stir in the whole grain mustard and creme fraiche, if desired. Remove and discard the sachet. Serve immediately.
Food styled by Karen Pickus
Recipe Summary
Main Ingredients: chicken, savoy cabbage, heirloom apples, juniper berries
Course: Dinner, Main Course, Side Dish