Savory Butternut Squash Soup
Recipe Courtesy Ellie Krieger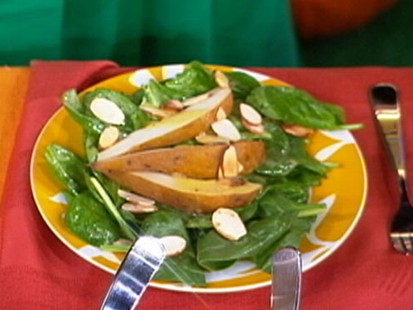 Healthy foods that could help ease rheumatoid arthritis pain.
From the kitchen of Ellie Krieger
For more information and recipes for people living with rheumatoid arthritis, visit NewWayRA.com
Ingredients
1 tablespoon of olive oil
1 medium onion, chopped
2 cloves garlic, minced
1/4 teaspoon ground allspice
1/4 teaspoon ground ginger
1 1/4 pounds pre-cut cubes butternut squash, fresh or frozen (about 4 cups)
4 cups low-sodium chicken broth or vegetable broth
1 tablespoon pure maple syrup
3/4 teaspoon salt
4 teaspoons of plain low-fat yogurt for garnish (optional)
Cooking Directions
Heat the oil over medium heat in a 6-quart stockpot.
Add the onions and cook until soft but not brown, about 6 minutes.
Add the garlic, allspice and ginger and cook, stirring frequently, for 1 minute more.
Add the butternut squash, broth, and salt and bring to a boil.
Reduce heat to medium-low and simmer until squash is tender and the broth is slightly reduced, about 15 minutes for fresh squash and 5 minutes for frozen.
Remove from heat stir in maple syrup.
Allow to cool slightly, about 15 minutes, then puree with an immersion blender or in a regular blender, about 1 cup at a time, until smooth.
Ladle into serving bowls and garnish with yogurt, if using.
Recipe Summary
Main Ingredients: butternut squash, broth, maple syrup, onion, garlic, allspice, yogurt
Course: Soup, Lunch, Dinner
More Info: Kid Friendly