Ellen's Baked Ziti
Loaded With Veggies, It's Healthy and Delicious!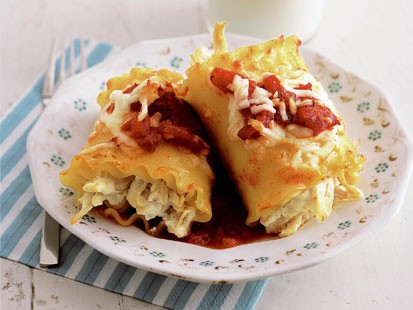 From the kitchen of Jessica Seinfeld
Growing up, my mom would prepare this dish at night after my sisters and I went to bed. The next day I would put it in the oven for her so dinner would be ready when she got home from work. Some steamed veggies and an easy salad are great on the side.
Nutritional info:
Calories: 413, Carbohydrate: 66g, Protein: 22g, Total Fat: 8.5g, Saturated Fat: 4.5g, Sodium: 520mg, Fiber: 2.5g
Ingredients
14 ounces whole-wheat ziti
2 cups jarred tomato sauce
½ cup carrot puree
1 cup part-skim ricotta cheese
½ cup cauliflower puree
2 large egg whites
1 cup shredded part-skim mozzarella
2 cloves garlic, finely chopped
¼ teaspoon pepper
¼ cup grated Parmesan
Cooking Directions
1. Preheat the oven to 450 degrees. Cook the pasta a few minutes less than the package instructions indicate so that it will still be firm when baked. Drain and set aside.
2. Pour the tomato sauce into medium bowl. Add the carrot puree and mix until well combined.
3. In another small bowl, combine the ricotta, cauliflower puree, egg whites, ½ cup of the mozzarella, garlic, and pepper.
4. Spread about half of the tomato sauce onto the bottom of a glass pan or casserole dish. Then add a layer with half the pasta. Spoon the ricotta mixture on top and cover with the rest of the pasta. Top it off with remaining sauce. Then sprinkle with the Parmesan and remaining mozzarella. Bake for about 30 minutes, until the cheese starts to brown and the filling is hot. Or cover with aluminum foil, refrigerate, and bake the next day.
For the carrot puree:
Peel, trim the ends, and cut into 3-inch chunks.
Steam for 10 to 12 minutes.
Puree using a food processor or blender for about 2 minutes, with a few teaspoons of water, for a smooth texture.
Recipe Summary
Main Ingredients: ziti, tomato sauce, ricotta cheese, parmesan cheese
Course: Lunch
More Info: Kid Friendly