Yummy Caramel Corn
Uses Sweet Potatoes; Tasty and Nutritious!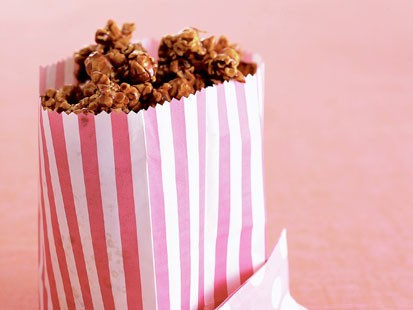 From the kitchen of Jessica Seinfeld
We make this really special, easy-to-prepare treat for movie night at our house. Because of the sugar, I'm careful with the portion size and make little bowls for everyone.
Nutritional info:
Calories: 133, Carbohydrate: 30g, Protein: 3g, Total Fat: 2g, Saturated Fat: 0g, Sodium: 60mg, Fiber: 4.5g
Ingredients
1 ¼ cups popcorn kernels
1 teaspoon canola oil
¼ cup firmly packed light brown sugar
¼ cup honey
¾ cup sweet potato puree
¼ cup flaxseed meal
¼ teaspoon salt
Nonstick cooking spray
Cooking Directions
1. In a medium saucepan over medium-high heat, combine the popcorn and canola oil. Cover and let cook, shaking the pot occasionally, until you hear the popcorn begin to pop, approximately 1 to 2 minutes. Once the popcorn begins to pop, shake the pot continuously until the popping slows down to once every few seconds. Turn off the heat and leave the pot covered until all the popping has stopped. Transfer the popcorn to a large bowl.
2. Preheat the oven to 350 degrees. In a small, heavy-bottom saucepan, combine the brown sugar and honey. Over medium heat, bring to a boil and cook 2 to 3 minutes, taking care not to burn the sugar mixture. Whisk in the sweet potato puree, flaxseed meal, and salt.
3. Pour the mixture over the popcorn and toss to evenly coat the kernels. Spread the mixture onto two large rimmed baking sheets sprayed with cooking spray.
4. Bake for 40 minutes. Stir occasionally at the beginning and more frequently as the mixture begins to dry out. The mixture will be soggy at frist but after it cools, it will be crisp and delicious! Store in a zipperlock plastic bag.
For the Sweet Potato Puree
Cut into quarters if steaming (do not peel). Leave whole if roasting. Let steam for 40 to 45 minutes. Roast in a 400 degree oven for 50 to 60 minutes. Scoop out the flesh and puree in a food processor or blender.
Recipe Summary
Main Ingredients: popcorn kernels, sugar, sweet potatoes
More Info: Kid Friendly