Easiest-Ever Baked Stuffed Apples
Do More With Apples Than Make Pie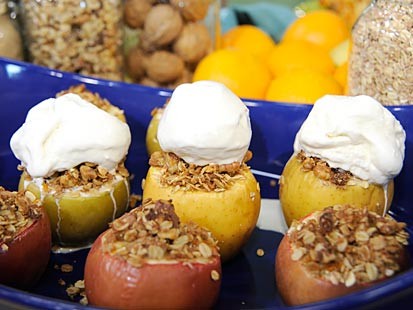 From the kitchen of Rachael Ray
Ingredients
6 firm fresh-picked apples
1/2 lemon
4 tablespoons (1/2 stick) butter, softened
1 cup muesli cereal with dried fruit
4 tablespoons dark brown sugar
1/2 cup chopped walnuts
2 teaspoons grated orange or lemon zest
1 teaspoon ground ginger
1 teaspoon ground cinnamon
1/2 teaspoon freshly grated nutmeg
2 pints vanilla bean ice cream
Cooking Directions
Preheat the oven to 425°F.
Trim the tops of the apples and scoop out the center and seeds with a small melon baller. Wipe the edges of the trimmed fruit with lemon.
Combine the butter, cereal, sugar, nuts, citrus zest, and spices and then fill the apples.
Set the apples upright in a baking dish or muffin tin and bake for 20 to 25 minutes, until tender. Top with ice cream and serve hot.
Styled by Karen Pickus
*Recipe courtesy of Rachael Ray from her book Rachael Ray's Look + Cook; Clarkson Potter Publishers, 2010.
Recipe Summary
Main Ingredients: apples, muesli cereal, vanilla bean ice cream
Course: Dessert, Snack