Zucchini Muffins
Recipe Courtesy Lisa Brown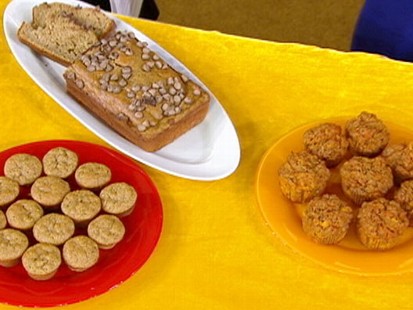 Foods and recipes that will help get your kids eating more greens.
From the kitchen of Lisa Brown
This recipe is very versatile. You can make 2 loaves of zucchini bread, 1 loaf of zucchini bread and 12 regular sized muffins/cupcakes, 1 loaf of zucchini bread and 24 mini muffins/cupcakes, 24 regular sized muffins, 48 mini muffins, or some other combination thereof.
Ingredients
1 1/2 cups all-purpose flour
1 1/2 cups whole wheat flour
1 teaspoon salt
2 teaspoons baking powder
3 teaspoons ground cinnamon
3 eggs
1/2 cup vegetable oil
1/2 cup applesauce
1 cup lightly packed brown sugar
1 cup white sugar (I use organic cane sugar)
3 teaspoons vanilla extract
2 cups grated zucchini
1 cup dark chocolate chips (optional and you can also do less - this amount makes for very chocolaty bread)
Cooking Directions
Grease and flour loaf pans or muffin tins (or use parchment paper/muffin cups).
Preheat oven to 325 degrees F.
Sift flour, salt, baking powder and cinnamon together in a medium sized bowl.
Beat eggs, oil, vanilla, and sugar together in a large bowl.
Add dry ingredients to the mixture and beat well.
Stir in zucchini and chocolate chips until well combined.
Pour batter into prepared bans.
Bake for 50 to 60 minutes for loaf or about 20 minutes for muffins, until tester inserted into the center comes out clean (I find the time really varies depending on how full I make the pans, so that tester really is key!)
Remove bread/muffins from the pan and completely cool.
If you are making cupcakes, let them cool completely (ideally overnight) if you are going to ice the tops.
Recipe Summary
Main Ingredients: all-purpose flour, whole wheat flour, eggs, applesauce, zucchini, chocolate chips
Course: Snack, Dessert, Breakfast, Brunch