Wolfgang Puck's Cream of Root Vegetable Soup with Sour Cream
Celebrity Chef Celebrates the Season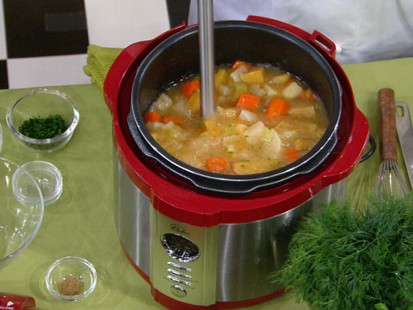 The chef prepares a root vegetable soup and an autumn salad.
From the kitchen of Wolfgang Puck
|
Good Morning America features recipes by chefs in the GMA kitchen. This recipe for cream of root vegetable soup is brought to your kitchen by Wolfgang Puck.
Ingredients
6 cups water or chicken broth
3 medium organic carrots, peeled and chopped
2 medium parsnips, peeled and chopped
2 organic celery stalks, chopped
1 large russet potato, peeled and chopped
1 large turnip, peeled and chopped
1 large leek, white part only, thoroughly rinsed, sliced
1/2 large rutabaga, peeled and chopped
2 tablespoons chopped flat-leaf parsley
2 teaspoons kosher salt (more to taste)
1/2 teaspoon white pepper
1 pinch ground coriander
2 tablespoons whipping cream
1 tablespoon unsalted butter
1/2 cup sour cream
Minced dill or thinly sliced green onions for garnish
Cooking Directions
If using the pressure cooker, put the water or chicken broth in a pressure cooker and, with the lid off, preheat it on medium-high heat until the liquid begins to simmer. Add all of the vegetables, the parsley, salt, pepper, and coriander. Secure the pressure cooker lid. When high pressure has been reached, reduce the heat to low and set a timer for 12 minutes. When 12 minutes are up, turn off or remove from the heat and release the pressure, following the manufacturer's instructions.
If using a soup pot, combine the water or stock, all of the vegetables, the parsley, salt, pepper, and coriander, and bring to a boil over medium-high heat. Reduce the heat, cover, and simmer 45 minutes, until the vegetables are tender and the broth fragrant. Remove from the heat.
Remove the lid from the pressure cooker or uncover the pot. With an immersion blender, puree the soup to the desired consistency, as coarse or smooth as you like (you can also do this in a blender or food processor, in batches, or through a food mill). Stir in the cream and butter and adjust the seasonings to taste. Serve immediately; or, if you like, transfer the soup to a heatproof bowl, let it cool at room temperature for about half an hour, stirring occasionally, then cover with plastic wrap and chill in the refrigerator.
Ladle the hot or chilled soup into serving bowls and add a dollop of sour cream and a sprinkling of dill or green onions to each serving. This soup is also delicious served with oven-baked herbed croutons.
Styled by Karen Pickus
Recipe Summary
Main Ingredients: carrots, parsnips, celery, potato, turnip, leek, rutabaga, sour cream
Course: Dinner, Lunch, Main Course, Side Dish, Soup, Vegetable
Other Recipes That You Might Like