Pan-Seared Pork Chops
Coffee Meets the Other White Meat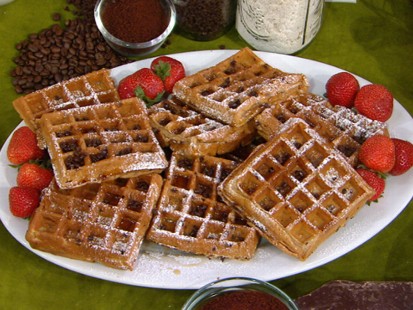 Chef Sandra Lee prepares five dishes with the same box of coffee.
From the kitchen of Sandra Lee
Ingredients
1 packet instant coffee, Nescafe® Taster's Choice (0.07-ounce)
1 tablespoon kosher salt
1 teaspoon paprika
1 teaspoon granulated garlic
1 teaspoon ground black pepper
1 teaspoon dried thyme
4 bone-in pork chops (about 1 1/2 inches thick) (12- to 16-ounce)
1 tablespoon vegetable oil
Garnish: fresh thyme
Cooking Directions
In a small bowl, stir together coffee packet, salt, paprika, garlic, pepper, and thyme. Using clean hands,
rub spice mixture over both sides of chops, pressing to adhere. Let stand 30 minutes at room temperature.
In a large nonstick skillet, heat oil over medium-high heat; add pork chops. Cook for 6 minutes on each side, or until desired degree of doneness. Let stand for 5 minutes before serving. Garnish with fresh thyme, if desired.
Reprinted with permission by Hoffman Media, LLC.
Sandra Lee Semi-Homemade magazine, www.semihomemademag.com
Recipe Summary
Main Ingredients: pork chops, instant coffee, garlic
Course: Dinner, Main Course, Side Dish