Coffee-Crusted Beef Tenderloin
Served With Beef Coffee Gravy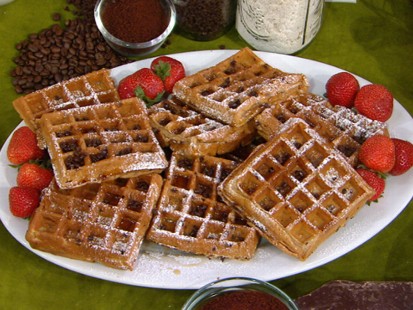 Chef Sandra Lee prepares five dishes with the same box of coffee.
From the kitchen of Sandra Lee
Ingredients
12-pound beef tenderloin, trimmed of fat and silver skin
1/4 cup finely ground coffee beans
1/4 cup brown sugar, C&H®
2 tablespoons chili powder, McCormick®
2 tablespoons paprika, McCormick®
2 teaspoons ground sage, McCormick®
1 teaspoon onion powder, McCormick®
1/4 teaspoon cayenne, McCormick®
Red onion, quartered
1 can (15-ounce) beef broth, Swanson®
1 tablespoon Worcestershire sauce, Lea & Perrins®
1 teaspoon instant coffee crystals, Maxwell House®
1/8 teaspoon seasoned salt, Lawry's®
2 tablespoons cornstarch
1/4 cup water
3 tablespoons butter, cut into large chunks
Salt and pepper
Recipe excerpted from Sandra Lee Semi-Homemade The Complete Cookbook by Sandra Lee
Copyright © 2010 Sandra Lee Semi-Homemade www.sandralee.com
Cooking Directions
For the tenderloin, remove meat from refrigerator 1 hour before roasting. Preheat oven to 500°F. Fold over thin end of meat and tie with string.
For the spice rub, in a small bowl, combine spice rub ingredients. Rub meat generously with the spice mixture. Let meat stand for 15 minutes and repeat rub.
Place meat on a rack in a roasting pan; arrange quartered red onions around meat. Do not cover. Place in oven. Turn oven down to 400°F. Roast for 30 to 40 minutes, or until internal temperature of roast is 130°F for rare or 145°F for medium. Remove from oven; let meat rest for 10 minutes before slicing.
For the gravy, in a medium saucepan, combine broth, Worcestershire sauce, coffee crystals, and seasoned salt and bring to boil. Reduce heat to simmer.
In a small bowl, dissolve the cornstarch in the water and whisk into broth mixture. Cook until gravy has thickened to the consistency of cream. Whisk in butter 1 chunk at a time. Season to taste with salt and pepper.
Recipe excerpted from Sandra Lee Semi-Homemade The Complete Cookbook by Sandra Lee
Copyright © 2010 Sandra Lee Semi-Homemade www.sandralee.com
Recipe Summary
Main Ingredients: pork chops, instant cofee, garlic
Course: Dinner, Main Course, Side Dish