Candied Bacon Green Salad
A Sweet and Savory Dinner Option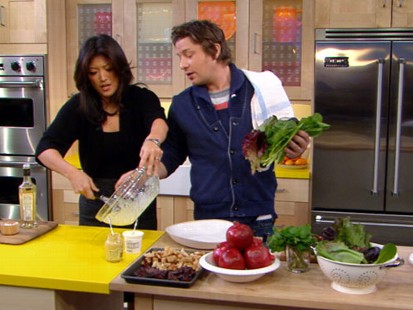 Jamie Oliver has a great appetizer to start out your big family feast.
From the kitchen of Jamie Oliver
|
This is a great twist on your standard warm salad! It was cleverly blends a candied layer with crispy smoked bacon. Add a good green salad and some seasonal fruit and you''e on to a winning combo.
Ingredients
For the Creamy French Dressing
1/3 cup good-quality extra virgin olive oil
3 tablespoon white wine vinegar
I heaping teaspoon Dijon mustard
1 heaping tablespoon natural yogurt
Sea salt and freshly ground black pepper
For the Salad
12 slices of smoked bacon, the best quality you can afford
1 clove garlic, peeled
3 slices of fresh white bread
Olive oil
Freshly ground black pepper
2 heaped teaspoons turbinado sugar
3 clementines
5 large handfuls of mixed salad leaves, washed and spun dry
1 pomegranate
A small bunch of fresh mint, leaves picked
Cooking Directions
To make your dressing, put all the ingredients into a large serving bowl, whisk together, and season to taste. You want it to be slightly too acidic, so add a splash more vinegar if you think it needs it. Put to one side.
Get a large frying pan on medium heat, add the bacon and cook until lightly golden (but not really crispy), turning it every so often. Remove the bacon to a plate. Squash your garlic clove and add it to the pan, then turn the heat up a little and tear your bread into medium-sized chunks. Drop them into the pan so they suck up all the flavors and become crispy and golden, then remove to the plate with your bacon.
Wipe the pan clean with paper towels, then put the bacon back in with the sugar or honey and the juice of 1 clementine. Concentrate on what you're doing, and make sure you don't touch or taste anything at any point because it will burn you. Stir everything around in the pan so the syrups starts to stick to the bacon. As soon as the bacon slices are perfectly caramelized and sticky, use tongs to carefully move them to an oiled plate and leave to cool down for a minute. Whatever shape you leave the bacon in at this point is how it will set, so give the slices a bend or a twist. Peel the remaining clementines and slice them into rounds.
Grab your bowl of dressing and add your salad leaves. Halve the pomegranate and use a spoon to knock the back of each half and pop the seed over the salad. Add your mint leaves, then use your hands to toss and dress everything thoroughly. Lightly toss your croutons through the salad and lay your candied bacon on top. Place your clementine rounds on top of the salad, then pass the bowl around the table and let everyone serve themselves.
Other Recipes That You Might Like