Spaghettini With Zucca, Onions, Anchovies and Bread Crumbs
A Savory Dish With Fall Vegetables and Fish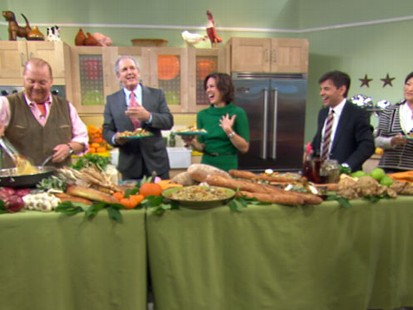 Mario Batali has tips to spice up your family's big feast this holiday.
From the kitchen of Mario Batali
A great twist on your stadard pasta dish! It expertly blends anchovy, butternut squash and fresh herbs to create a delicious dinner.
Ingredients
2 tablespoons plus 2 tablespoons extra-virgin olive oil
1 red onion, finely chopped
4 cloves garlic, thinly sliced
6 salt-packed anchovy fillets, rinsed and drained
1 pound butternut squash, peeled, seeded and cut into ¼-inch cubes
Salt and pepper
1 pound spaghettini
1 bunch Italian parsley, finely chopped to yield 1/4 cup
1/2 cup breadcrumbs
Cooking Directions
Bring 6 quarts of water to a boil and add 2 tablespoons salt.
In a 12- to 14-inch sauté pan, heat 2 tablespoons olive oil over medium heat. Add the onion, garlic and anchovies and cook over medium heat, stirring occasionally, until the onions and garlic are softened and the anchovies have begun to disintegrate. Turn the heat up to high and add the squash cubes. Toss over high heat for 5 minutes, until the cubes are browned at the edges. Season with salt and pepper and remove from heat.
Cook the spaghettini in the boiling water according to the package directions, until tender yet al dente. Return the squash mixture to the heat, drain the pasta and add it to the pan. Add the parsley and remaining olive oil and toss over high heat 1 minute. Divide the pasta and squash evenly among four warmed pasta bowls, top with breadcrumbs and serve immediately.
*Recipe courtesy of Mario Batali from his bookFor more great Mario Batali recipes, click here.
Recipe Summary
Main Ingredients: anchovy, onions, butternut squash, spaghettini
Course: Side Dish, Dinner, Main Course