Cranberry Sauce
Aureole Chef Chris Lee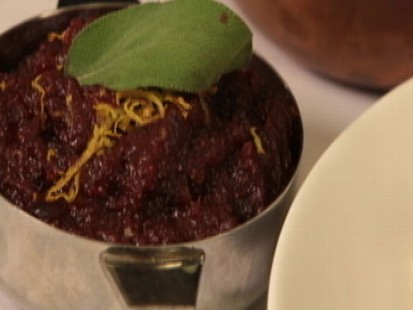 Executive chef Christopher Lee shows Tanya Steel all his sides.
From the kitchen of Chris Lee
Ingredients
For the Sauce:
1 ½ quarts fresh cranberries
½ cup sugar
3 cups orange juice
3 sage leaves
1 cinnamon stick
Cooking Directions
Place everything in a pot and bring to a simmer. Cook until 80% of the liquid is cooked out. Then remove the sage leaves and cinnamon stick.
Put the cranberry sauce in a food processor and mix for 2 minutes. Reserve until serving.
This can be done one day ahead and also served either hot or cold.
Recipe Summary
Main Ingredients: cranberries, sugar, orange juice, sage, cinnamon
Course: Side Dish, Sauces and marinades
More Info: Kid Friendly