The Fat Doboy Sandwich
All Your Favorite College Food in 1 Sandwich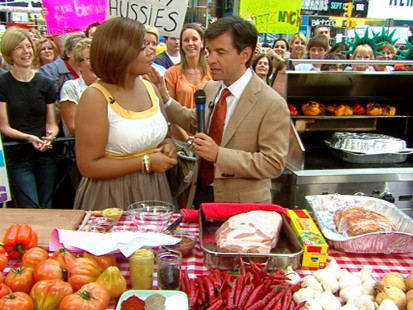 Sunny Anderson prepares pulled pork sandwiches and pasta salad.
From the kitchen of Sandwich University
|
This West Virginia sandwich shop specializes in late night grub. Check out this college student favorite.
Ingredients
1 package thin frozen steak
1 package American cheese
1 package breaded chicken tenders
1 package breaded mozzarella sticks
1 lb bacon
1 bottle ketchup
1 jar mayonnaise
1 bag of thick cut French fries
6 eight-inch hoagie rolls
Cooking Directions
Prepare frozen steak, chicken tenders, mozzarella sticks and French fries as directed on packaging.
Melt two slices of American cheese on top of steak. Place cheese steak cheese-side down on the hoagie roll. Next place two chicken tenders on top of the steak layer, followed by two mozzarella sticks. Then put two strips of bacon over top. Drizzle ketchup and mayo over the sandwich contents, keeping off the outside of the bun. Finally, the French fries are piled in. The sandwich is wrapped tight in foil to pack it all together. Unwrap and eat.
Other Recipes That You Might Like