Bill Weir's Deep Fried Turkey
Turkey So Delicious You May Not Need Sides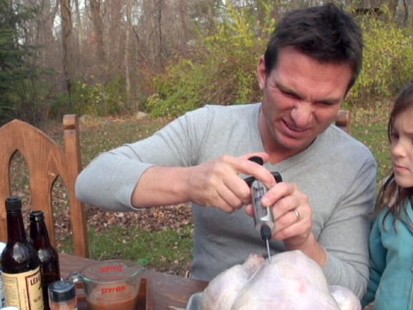 Bill Weir cooks a crispy bird with a deep fryer and a dash of humor.
From the kitchen of Bill Weir
|
Give your oven a break and try frying your turkey this Thanksgiving. The frying helps give the bird a pefectly crispy skin and juicy meat.
Ingredients
1/2 pound butter
1/2 bottle of beer (chicken stock is a good nonalcoholic substitute)
2 tablespoons salt
2 teaspoons garlic powder
2 teaspoons onion powder
1 teaspoon of cayenne pepper
1 teaspoon of black pepper
2 tablespoons Worcestershire sauce
2 tablespoons Tabasco
1 turkey
Cooking Directions
Melt the pound butter in a sauce pan and then mix in beer, salt, garlic powder, onion powder, cayenne pepper, black pepper, Worcestershire sauce and Tabasco.
Remove the neck and giblets and inject the marinade liberally throughout every part of the bird, cover with an oven bag and refrigerate overnight. Heat the oil to 350 degrees drop the bird SLOWLY (when the moisture in the marinade hits the hot oil, it will pop and splatter so gloves and long sleeves are highly recommended). Cover and fry the turkey at 350 degrees for 3 minutes per pound. When the thickest part of the thigh reaches 180 degrees, remove, drain, cool and carve.
Other Recipes That You Might Like