Diane Henderiks' Sake Rumaki
Recipe Courtesy Diane Henderiks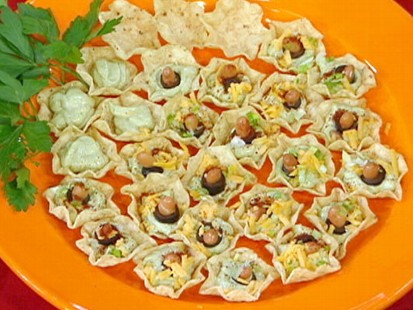 Portion controlled starter recipes for your holiday parties.
From the kitchen of Diane Henderiks
Ingredients
1 cup teriyaki
1 cup sake
1 cup low sodium soy sauce
1 tablespoon freshly grated ginger
2 tablespoons balsamic vinegar
1 tablespoon molasses
2 teaspoons ground red pepper
1 pound skinless, boneless chicken breast, cut into 1 inch cubes
1 pound bacon, cut package in half crosswise
Cooking Directions
Preheat oven to 375 degrees F.
In a medium bowl whisk first 7 ingredients together (teriyaki through ground red pepper). Pour into gallon-sized zip top bag.
Place chicken cubes in bag with marinade, zip bag and turn to combine.
Place in refrigerator and marinate for at least 1 hour.
Assemble Rumaki as follows: place half strip of bacon on work surface, place water chestnut in center, top with chicken cube, then wrap bacon around and secure with toothpick.
Place on baking sheet and cook until bacon is browned.
Leave toothpick in and serve warm.
Recipe Summary
Main Ingredients: teriyaki, sake, chicken breast, bacon
Course: Appetizer/Starter, Party Platter, Side Dish