Home
>
GMA
>
Recipes Home
>
From the Family Kitchen of Robin Roberts: Lucimarian's Holiday Frappe
From the Family Kitchen of Robin Roberts: Lucimarian's Holiday Frappe
Check Out Robin's Family Recipe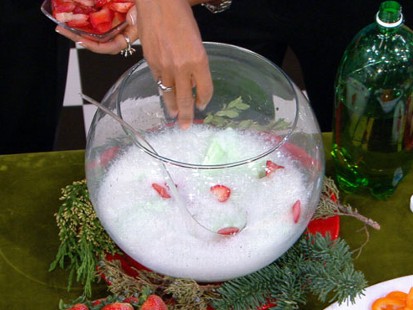 "GMA's" Robin Roberts whips up a family favorite.
From the kitchen of Robin Roberts
|
Whenever I saw Momma setting out the punch bowl for this festive drink, I always knew it was time for a Christmas party. The ingredients are simple, but it's something that takes me back to the holidays. No need for ice to water down this party drink—the sherbet does double duty!
Ingredients
1 half-gallon lime sherbet
2 one-liter bottles of ginger ale
1 pint of strawberries, washed and sliced
Cooking Directions
Make sure lime sherbet is frozen hard. Do not soften it.
Scoop lime sherbet into a large punch bowl. Add one liter of ginger ale, and garnish with sliced strawberries. Replenish with more ginger ale, as needed.
This recipe was styled by chef Karen Pickus for Good Morning America.
Other Recipes That You Might Like