Pork Sliders Asian Style
A International Twist on an American Classic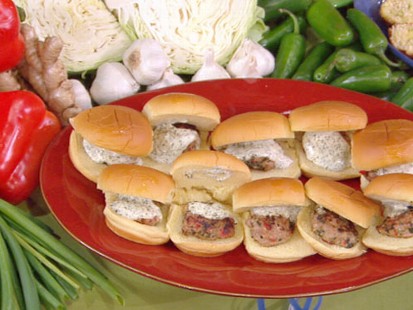 Sara Moulton shares some delicious snack ideas for the New Year.
From the kitchen of Sara Moulton
|
Every fan of burgers is also a fan of mini-burgers, a/k/a sliders – especially mini-me. I know, of course, that your basic hairy-chested carnivore loves sliders because he can eat more of them at one sitting than he can of a standard-sized burger. (This character is impervious to "the psychology of serving," which suggests that people eat less if you serve them less.) Me, I find even one standard-sized burger too much to polish off at a sitting, but I'm delighted to dig into a smaller version.
I've added a bunch of chopped vegetables to these burgers to provide not just flavor and crunch, but moisture. (Ground pork can be dry.) The soy sauce and sesame oil add an Asian flavors. These little devils are great right out of the pan, but if you lather 'em up with Cilantro Mayo they become downright decadent – or at least mini-decadent.
Ingredients
1/8 small green cabbage
1/4 small red bell pepper
1/4 cup fresh basil leaves
1 medium scallion
One 1- inch piece fresh ginger
1 garlic clove
1/2 pound lean ground pork
2 teaspoons soy sauce
1/2 teaspoon kosher salt
1/8 teaspoon sesame oil
2 tablespoons vegetable oil
Cilantro Mayo
Mini pitas or small rolls (see note)
Cooking Directions
Finely chop the cabbage (about 1/3 cup), bell pepper (about 1/4 cup), basil (about 2 tablespoons) and scallion (about 2 tablespoons); peel and Microplane grate the ginger (1 teaspoon). Combine the cabbage, bell pepper, basil, scallion and ginger in a large bowl and press in the garlic (about 1 teaspoon). Gently stir in the pork, soy sauce, salt, and sesame oil and shape into 8 mini burgers.
Heat the vegetable oil in a medium skillet over medium heat until hot. Add the burgers and cook for 2 minutes per side or until just cooked through. Meanwhile, prepare the Cilantro Mayo.
Serve the sliders in mini pitas or on small rolls topped with Cilantro Mayo.
Note: Both Sahara's mini pitas and Martin's Famous Dinner Potato Rolls are just the right size for these sliders. You can find either product at most supermarkets.
Cilantro Mayo:
Stir together 1/4 cup mayonnaise, 1 tablespoon finely chopped fresh cilantro, 1 teaspoon lime juice and salt and pepper to taste.
Recipe courtesy "Sara Moulton's Everyday Family Dinners," Simon and Schuster 2010.
This recipe was styled by chef Karen Pickus for Good Morning America.
Recipe Summary
Main Ingredients: green cabbage, red bell pepper, basil, scallion, frsh ginger, garlic clove, lean ground pork, soy sauce, kosher salt, sesame oil, vegetable oil
Course: Party Platter, Snack, Appetizer/Starter
Other Recipes That You Might Like