Sweet Potato Chili
A Savory Dish in a Snap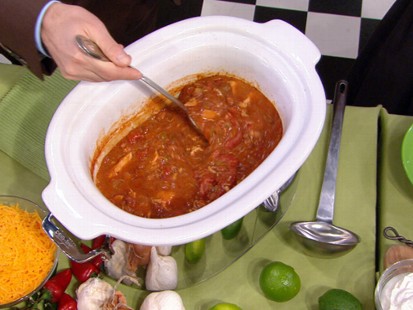 The queen of the slow-cooker cooks three versions of her mouthwatering chili.
From the kitchen of Stephanie O'Dea
Stephanie O'Dean knows how to make dinner easy. Here's what she though about this recipe:
This is a fun and flavorful vegan meal that doesn't leave you hungry fifteen minutes later. I promise.
I loved the sweet smoky flavor, and was thrilled at the depth of flavor that came from this spice combination. The sweet potato and beans were plenty filling, and Adam didn't once mumble that he'd really like a steak. My kids ate it, but unveganized it by adding shredded cheese and sour cream.
Ingredients
2 sweet potatoes, peeled and diced in 2-inch chunks
1 yellow onion, diced
1 red bell pepper, seeded and chopped
1 (14.5-ounce) can tomatoes (whatever's on sale—mine had oregano and roasted garlic)
1 (15-ounce) can red kidney beans, drained and rinsed
2 garlic cloves, minced
1 tablespoon chili powder
1 teaspoon smoked paprika
1 teaspoon chipotle chile powder
1/2 teaspoon kosher salt
1/2 cup orange juice
1 cup water
Recipe Summary
Main Ingredients: sweet potato, onion, bell pepper, tomato, kidney beans, garlic, chili powder, paprika, chipotle chili powder, orange juice
Course: Dinner, Main Course